Editor's Note: The following contains spoilers for Wish.
The Big Picture
Disney's Wish is a heartwarming celebration that honors Walt Disney Animation's 100-year history, with likable characters, great music, and high-quality animation.
The story follows Asha, a teenager in the kingdom of Rosas, who discovers the dark secret behind King Magnifico's wish-granting powers and sets out to free the wishes of the kingdom.
With the help of her friends and the magical star named Star, Asha defeats the power-hungry King Magnifico and restores peace to the kingdom, becoming the new Fairy Godmother of Rosas.
Disney ends the year with a centennial celebration of Walt Disney Animation Studios with the new CG-animated feature, Wish. The new feature is a charming, heartwarming celebration that honors Walt Disney Animation's 100-year history with likable characters, great music, and high-quality animation. The story follows the young teenager, Asha (Ariana DeBose), a bright young girl and citizen of the kingdom of Rosas. Rosas is ruled by a powerful sorcerer named King Magnifico (Chris Pine), who has the power to grant wishes, but that power has a dark secret.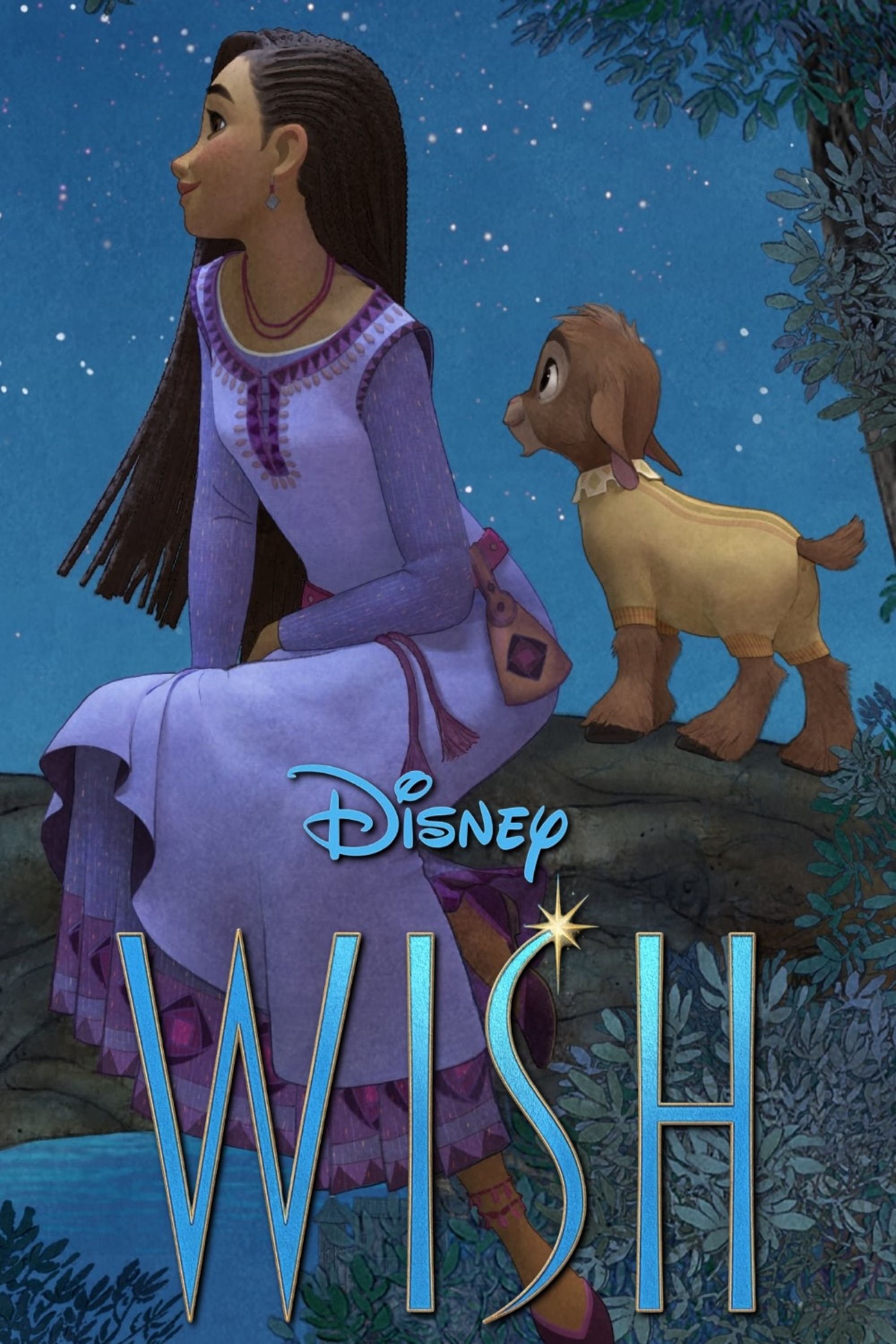 Wish
Wish follows a young girl named Asha who wishes on a star and gets a more direct answer than she bargained for when a trouble-making star comes down from the sky to join her.
Release Date

November 23, 2023

Director

Chris Buck, Fawn Veerasunthorn

Cast

Chris Pine, Alan Tudyk, Ariana DeBose, Evan Peters

Rating

PG

Runtime

92 minutes

Genres

Animation, Adventure, Comedy
After first seeking to become King Magnifico's apprentice, Asha learns the secret of the kingdom's wishes. The other citizens of Rosas give up their hearts' desires during a ceremony on their 18th birthday, and then King Magnifico erases the memories of their wishes, hoarding them all to himself. Once a month, he grants one person's wish, but he refuses to give any of the wishes back, fearing they could be dangerous. Asha becomes disenchanted with King Magnifico when he refuses to grant the wish of Asha's 100-year-old grandfather, Sabino (Victor Garber), who wants to create something to inspire the younger generations. This results in Asha wishing for something more, and the power of her wish brings the little wishing star named Star, who seeks to help Asha free the wishes of Rosas and return them to everyone. So, how does their mission pan out, and how exactly does Disney's Wish end?
Star's Power Drives King Magnifico Mad
The strict, authoritarian King Magnifico grows paranoid when Asha's wish brings Star to Rosas. He takes the existence of magic other than his own as a threat and seeks to acquire Star's energy to use for himself. He refuses to heed the warnings of his wife, Queen Amaya (Angelique Cabral), and he harnesses the magic of a dark forbidden spell. The forbidden spell takes hold of Magnifico and drives him mad, and he becomes even more obsessed with capturing Asha and Star, crafting a magic staff to absorb the little ball of joy's power.
Magnifico also absorbs other people's wishes to increase his power, and the act causes the victims to feel grief and sadness. Magnifico's actions make Asha a fugitive. After Magnifico realizes Asha is the one who wished for Star, he goes to her home, destroying the wish of Asha's mother, Sakina (Natasha Rothwell). Asha and Star manage to rescue Asha's family, and they seek to temporarily escape from the island kingdom. However, Asha realizes she must return to the kingdom to stop Magnifico and make everything right.
Asha Rallies Her Friends Against Magnifico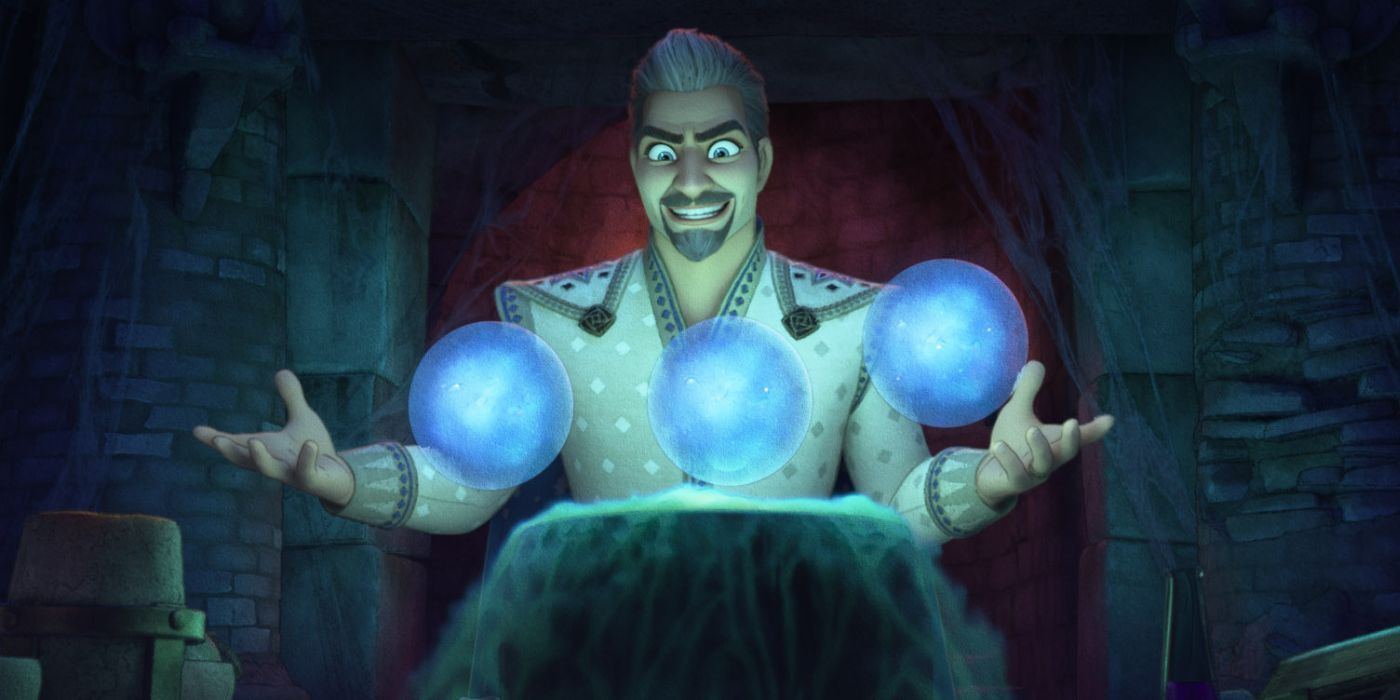 After returning to Rosas, Asha manages to explain to her friends what the evil King Magnifico has done, and Queen Amaya sides with them against her husband. The group comes up with a plan together to stop Magnifico and free the wishes kept in his castle's tower. However, Magnifico sets a trap for the group, brainwashing one of Asha's friends, Simon (Evan Peters), against her while her other friends try to free the kingdom's wishes from the tower. Magnifico's trickery works at first, and he captures Star within his staff at the top of his castle's tower while the rest of the townspeople watch on. Asha wills the rest of the people of Rosas against Magnifico. Using the power of their star magic within their hearts, they overcome Magnifico's magic. Star is freed from the mad king's staff, and the wishes are liberated from his clutches as well. The wishes return to their rightful owners, and Asha and her friends are victorious.
Peace Returns to Rosas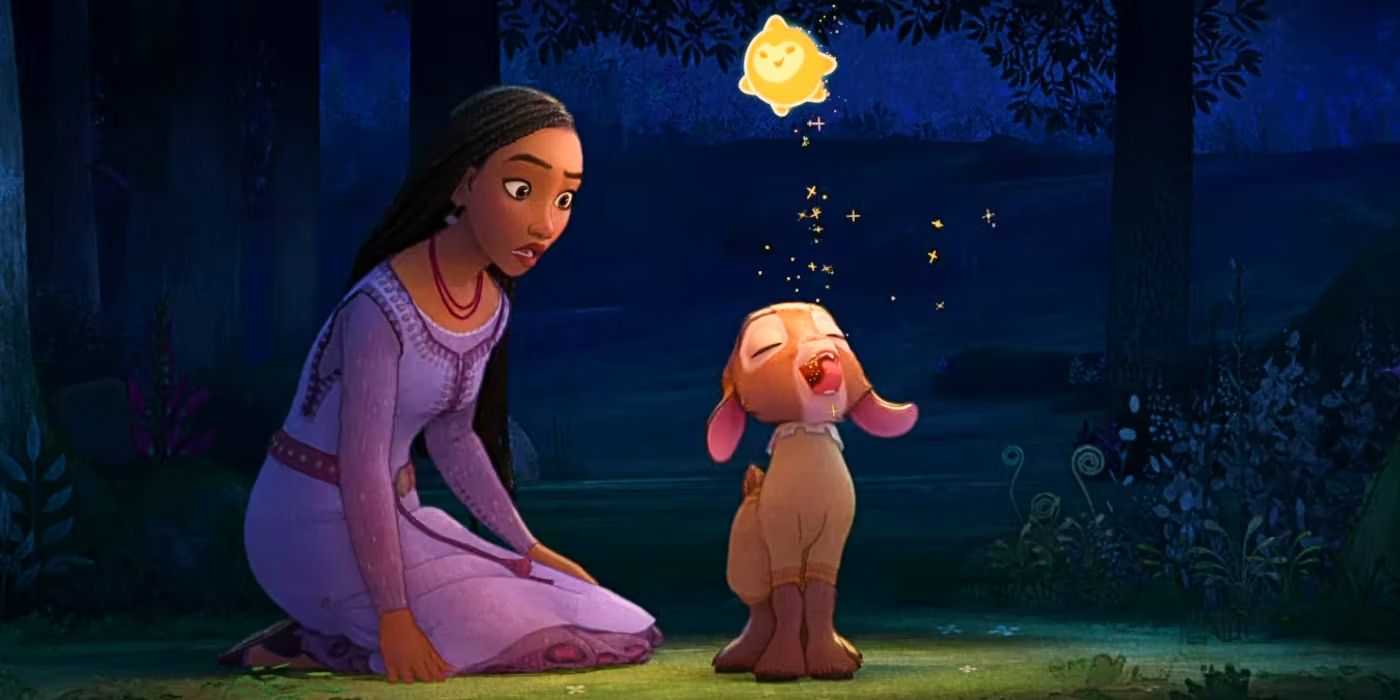 As a result of his meddling with forbidden magic, Magnifico has been trapped in the reflective lenses of the top of his staff, with Queen Amaya ordering a guard to hang it on a wall in the dungeon. There's a reference to the Magic Mirror from Disney's Snow White, and the film contains multiple references about Magnifico resembling the Magic Mirror. With Magnifico out of the way, Queen Amaya takes over as the kingdom's new ruler. Meanwhile, Asha's friend Simon apologizes, and Asha and her other friends forgive him for listening to Magnifico. Asha's grandfather Sabino, now that he's regained his wish and its memory, starts playing music and having fun with the townsfolk. Hopefully, he's on the road to creating a song that will inspire the generations to come.
Asha comes to realize that Star will have to leave Rosas soon, so it can help other people accomplish their dreams. Meanwhile, Amaya seeks to help other citizens make their dreams come true through more practical means. Before Star leaves, it fixes a magic stick that it made for Asha earlier, making it a working magic wand. At her friends' suggestion, Asha then resolves to become the new Fairy Godmother of Rosas. Earlier, she even wore a cloak resembling the Fairy Godmother from Disney's Cinderella in another amusing Easter egg. Star is also meant to be the "Wishing Star" that has appeared in multiple Disney stories, so Wish acts as an uplifting, magical origin story for the magical star that characters have wished upon in Disney animated classics. As for Asha's grandfather creating something special that will inspire future generations, moviegoers will have to stay through the closing credits to discover the answer.
Wish is now in theaters in the U.S.
Buy tickets here