Editor's Note: The following contains spoilers for Thanksgiving (2023).Eli Roth is no stranger to gory horror movies, and certainly never holds back on incorporating his dark sense of humor when he makes them. Thanksgiving had its theatrical release on November 17, 2023, wrapping up a long-running joke that started in 2007. Originally, the concept for the movie was nothing more than a mock trailer, created by Roth for Robert Rodriquez and Quentin Tarantino's Grindhouse double-feature. The original trailer played between the two Grindhouse movies and was packed with terrible food-related puns, cheesy 80s-style narration, and of course… all the bloody fixings.
While Roth has many films under his belt as a writer, director, actor, and producer, Thanksgiving is intrinsically tied to his earlier days when he first started out. His first two films, Cabin Fever and Hostel from 2002 and 2005 placed him solidly in a group of horror creators known as "The Splat Pack" for their grotesque practical effects and creative kill scenes in low-budget movies. Since the theatrical debut of Thanksgiving, horror enthusiasts have been singing praises for the nostalgic factors that Roth incorporated into the film. The movie is laden with similar "whodunnit" vibes as presented in movies like Scream and I Know What You Did Last Summer.
The Thanksgiving killer torments the town, posting photos of their handiwork on social media under the name of "John Carver," one of the most prestigious founders of Plymouth. Similar to V from V for Vendetta, who wore the infamous Guy Fawkes mask and hat, the killer dons a plastic mask fashioned to look like the original John Carver, complete with a pilgrim outfit and buckled hat. As the bodies build up leading to the anniversary of a tragic Black Friday shopping massacre, it's hard for the citizens of Plymouth to tell whom they can trust. This handy guide will help you determine who all the possible suspects might be.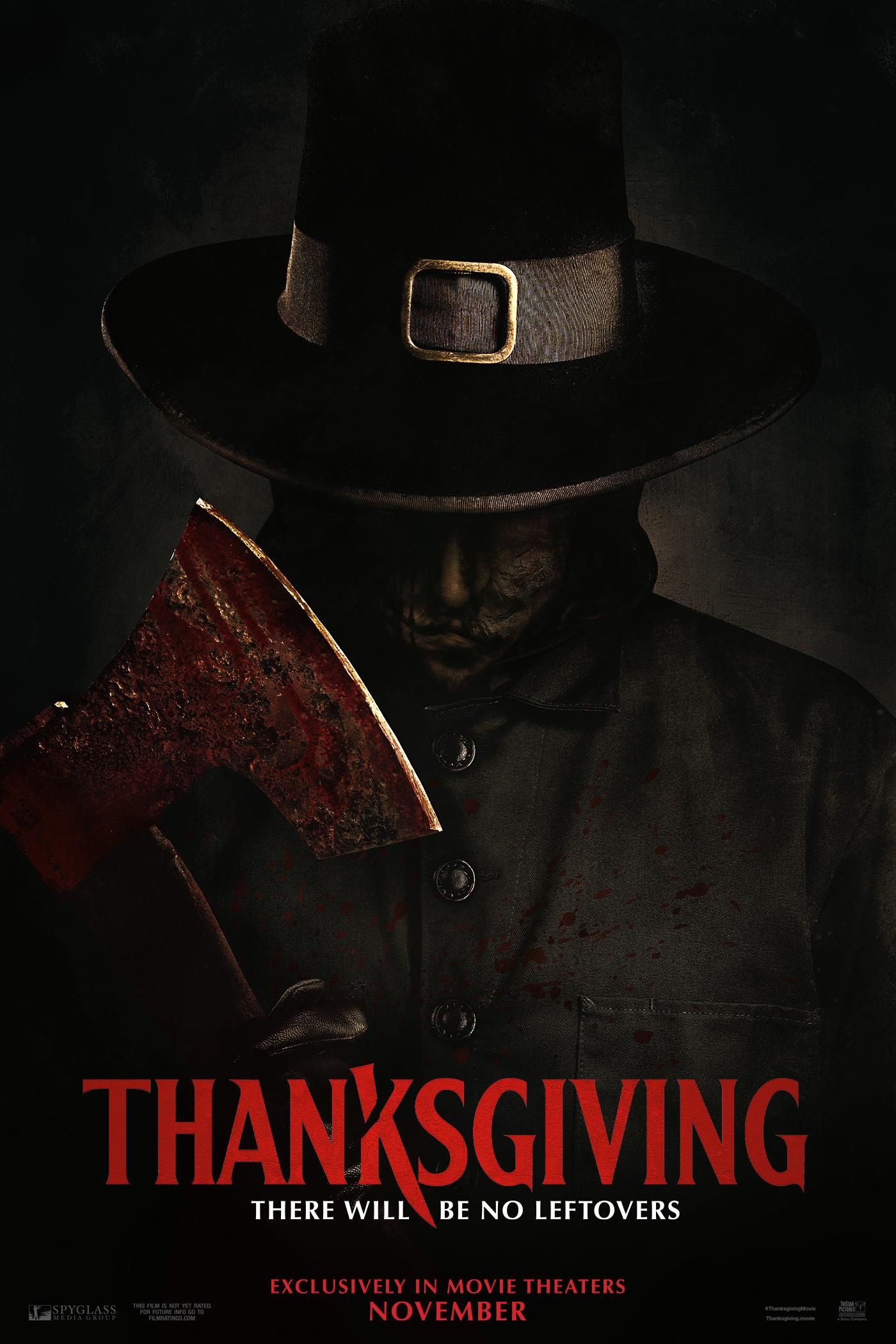 Thanksgiving
After a Black Friday riot ends in tragedy, a mysterious Thanksgiving-inspired killer terrorizes Plymouth, Massachusetts – the birthplace of the infamous holiday.
Release Date

November 17, 2023

Director

Eli Roth

Cast

Rick Hoffman, Gina Gershon, Patrick Dempsey, Milo Manheim, Addison Rae

Runtime

107 minutes

Main Genre

Horror

Genres

Horror, Mystery, Thriller

Writers

Jeff Rendell, Eli Roth
Nell Verlaque as Jessica Wright
Jessica Wright, played by Nell Verlaque, is the main protagonist in Thanksgiving. She inadvertently is the cause behind the tragic Black Friday shopping incident that occurs at the beginning of the movie because she is able to sneak her and her group of friends into her father's big box store, "RightMart." Enraged by the fact that others were "allowed" into the store before it officially opens, a riot ensues, causing multiple deaths and countless injuries. One year later, people who partook in the RightMart incident began to get killed off in gruesome manners, with the killer posting and tagging Jessica and her friends on Instagram. As her father owns the store, there's no way she could be behind the revenge killings…right? Nell Verlaque is best known for her performance as Louise Gruzinsky in the comedy-drama series Big Shot. She has also appeared in movies such as The Marijuana Conspiracy and Secrets in a Small Town.
Jalen Thomas Brooks as Bobby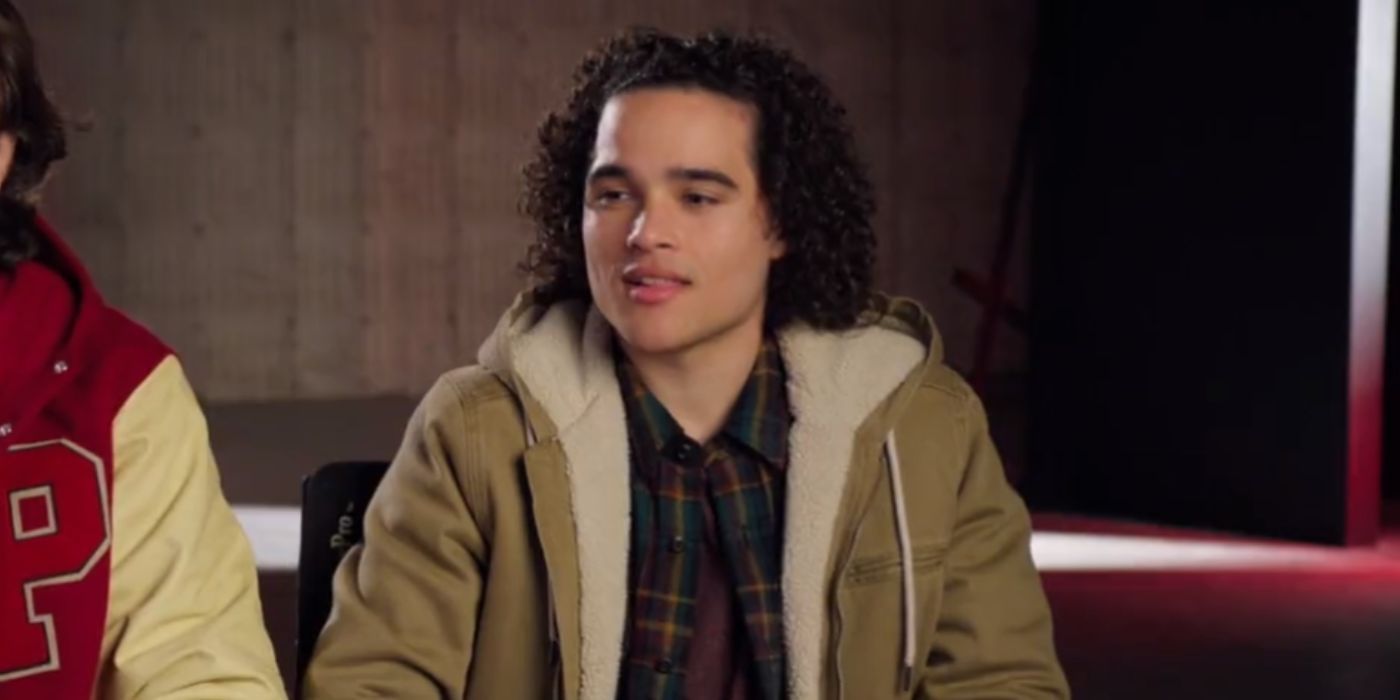 Bobby starts off the film as Jessica's boyfriend and is known to be popular for his "Golden Arm," a nickname given to him as he is a star baseball player with the potential to go professional. He is reluctant to join her and her friends when they sneak into RightMart but agrees to go when she pressures him. As a result, his throwing arm is brutally broken as he tries to crawl towards Jessica on the floor after the riot begins. In the aftermath, he leaves town and seemingly disappears without a trace, only to return to Plymouth just as the murders begin a year later. Bobby is played by Jalen Thomas Brooks, a California native whose most notable appearances include Colton Davidson on the Walker television series, Rebel, and Animal Kingdom.
Tomaso Sanelli as Evan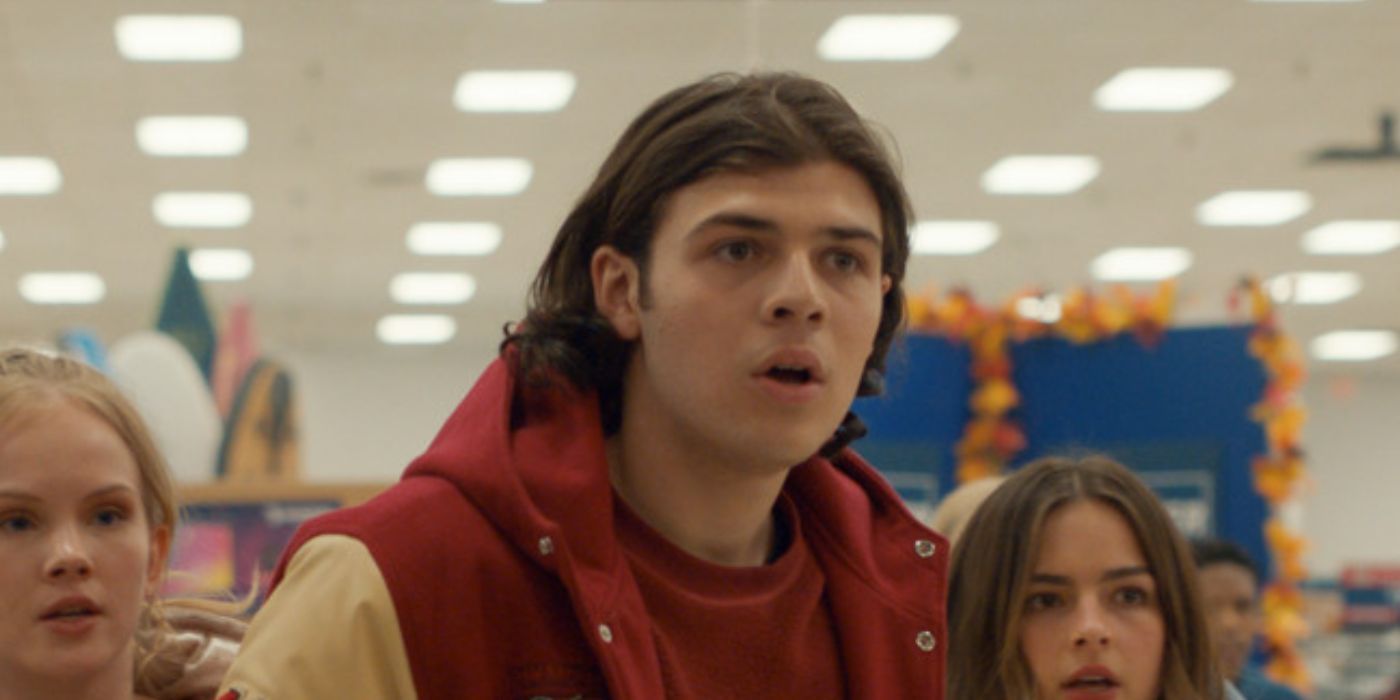 Evan is the main reason for the group of friends going into the store on the night of the incident because he wants to get a new phone after he broke his old one in a brawl with a member of their rival high school's football team. Once inside the store, he whips the crowd of impatient shoppers (including the guy he fought with earlier) into a frenzy by rubbing it in their faces. Tomaso Sanelli, who plays Evan, has a variety of television shows he has starred in, including Titans, Detention Adventure, and Holly Hobbie. He made his feature film debut in 2018 with the dramatic comedy, The Road to the Lemon Grove and later, the 2021 film Dark Web: Cicada 3301, before joining the cast of Eli Roth's Thanksgiving.
Gabriel Davenport as Scuba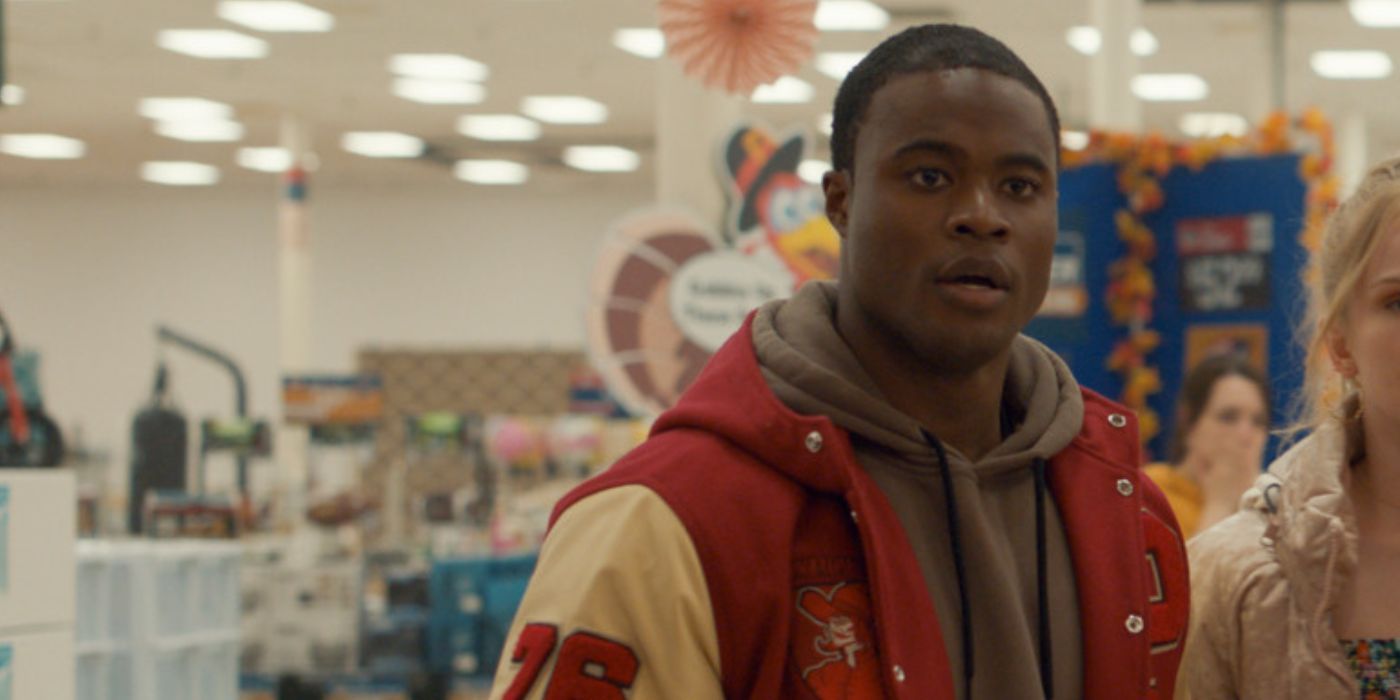 "Scuba," a nickname with a vague origin story (other than Scuba's real name being embarrassing) is also part of the group of friends that illegally enter RightMart before it officially opens. Thanks to his size and speed, he is not injured during the riot but is still tagged in the social media posts made by the killer. Played by Gabriel Davenport, he teams up with Jessica to figure out who is behind all the revenge killings and has no apparent motives to be the killer. Davenport has a variety of acting experience, making appearances in other (non-horror) holiday-themed movies such as Mistletoe Time Machine and Hotel for the Holidays. He has also had performances in shows like The Expanse, Murdoch Mysteries, and In the Dark.
Jenna Warren as Yulia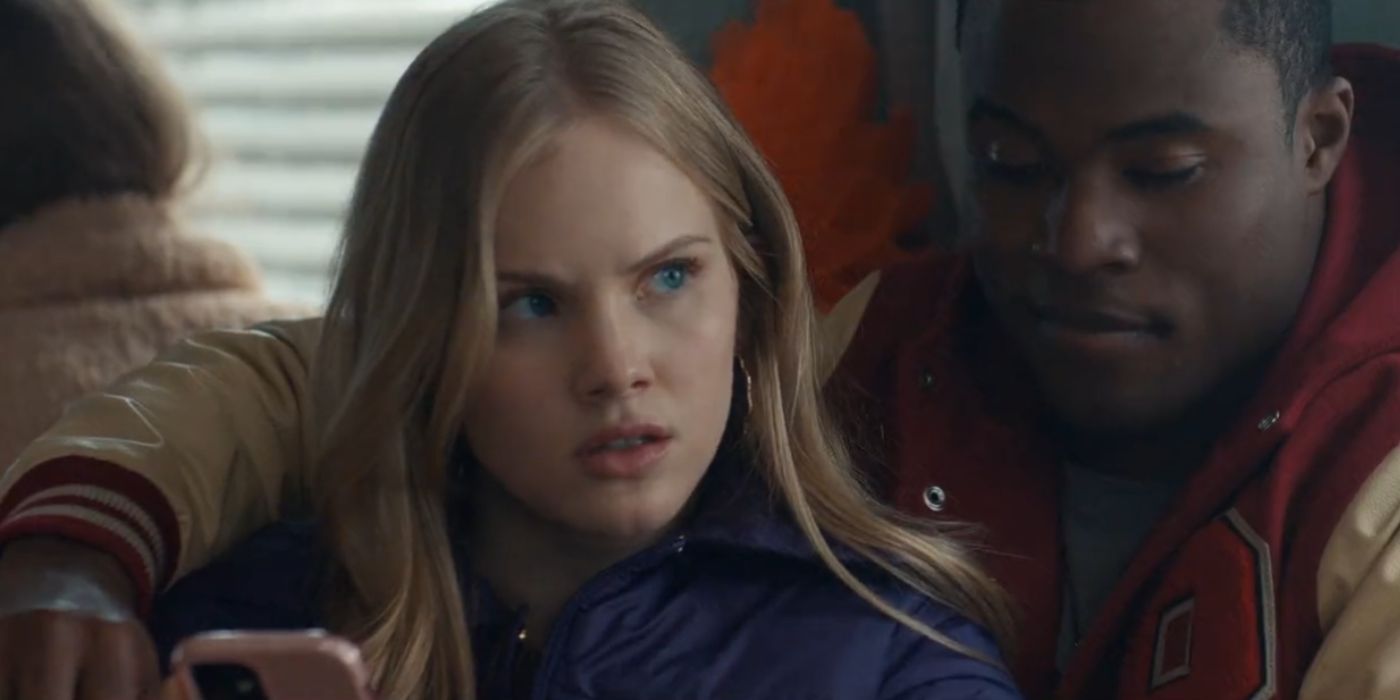 Yulia is Scuba's girlfriend and lives with her "man of few words" Russian father. She also escapes the RightMart massacre unscathed but is still included in the blame game perpetrated by the mysterious killer known as John Carver. Once it's made clear that the killer is targeting people who were there during that fateful night, her father attempts to whisk her away to Florida on a last-minute flight. Is he trying to protect her from the killer, or is he trying to prevent her from killing again? Yulia is played by Jenna Warren, who is best known for her voice work on children's entertainment shows like My Little Pony: Make Your Mark and Thomas & Friends: All Engines Go, but she was also in the 2022 drama The Young Arsonists and Eli Roth's Haunted House: Trick VR Treat short horror film.
Addison Rae as Gabby
Addison Rae started out as a social media influencer before quickly becoming swept up in other entertainment industries for her singing and acting abilities. The 23-year-old star made her acting debut in He's All That, Netflix's gender-swapped remake of the 90s movie She's All That. Rae joined the cast of Thanksgiving as Gabby, Jessica's best friend, and Evan's girlfriend. Equally targeted by the killer for being at RightMart, her life is once again put at risk through association. That is… unless she's the killer behind the mask.
Milo Manheim as Ryan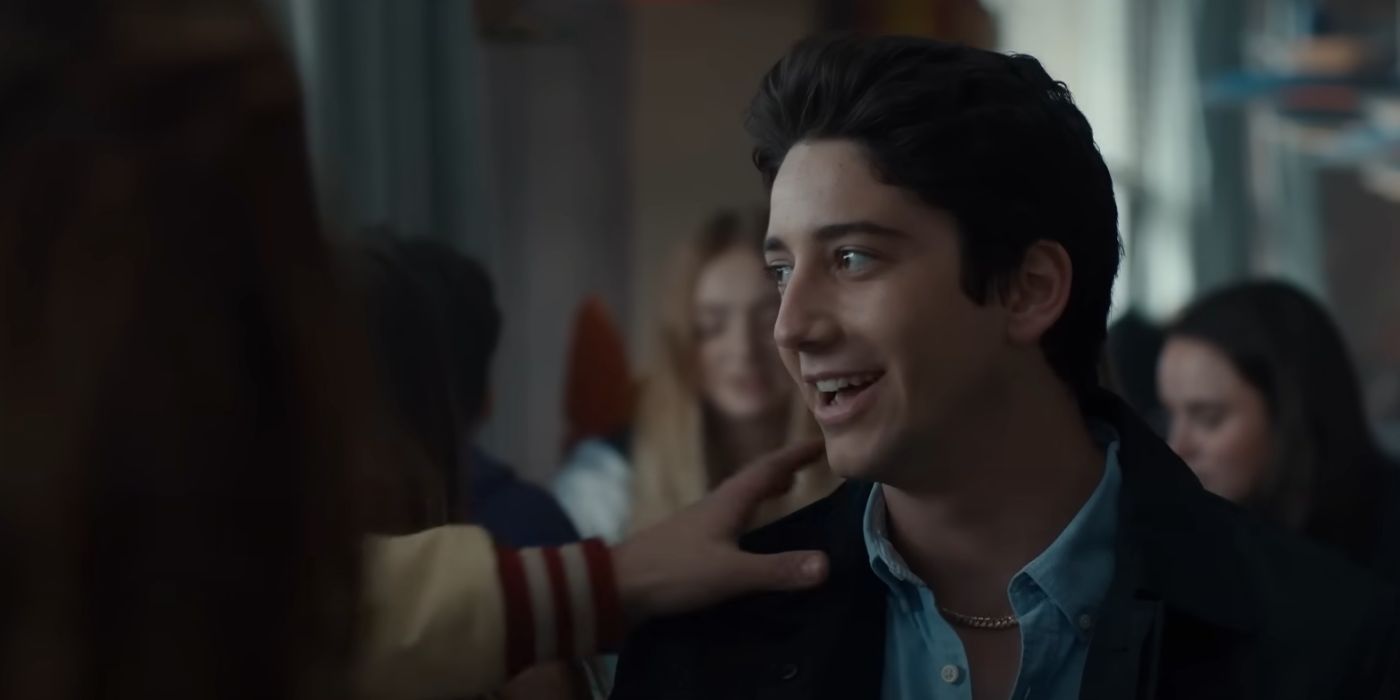 Ryan, played by Milo Manheim, is first introduced as a boy who is interested in dating Jessica but is held at bay by her boyfriend, Bobby. When the movie flashes forward to the one-year anniversary of the RightMart incident, Ryan is now Jessica's new boyfriend after Bobby has fled town and ghosted Jessica. When Bobby returns, Ryan is concerned and even speculates that Bobby could be the killer because his injuries sustained that night cost him a potential scholarship for baseball. Milo Manheim began acting at the age of 7 and quickly amassed a repertoire of 15 stage musicals under Liza Monjauze Productions, including Rent, Footloose, and Spring Awakening. His latest role following Thanksgiving is Joseph in the upcoming Christmas musical Journey to Bethlehem.
Patrick Dempsey as Sheriff Eric Newlan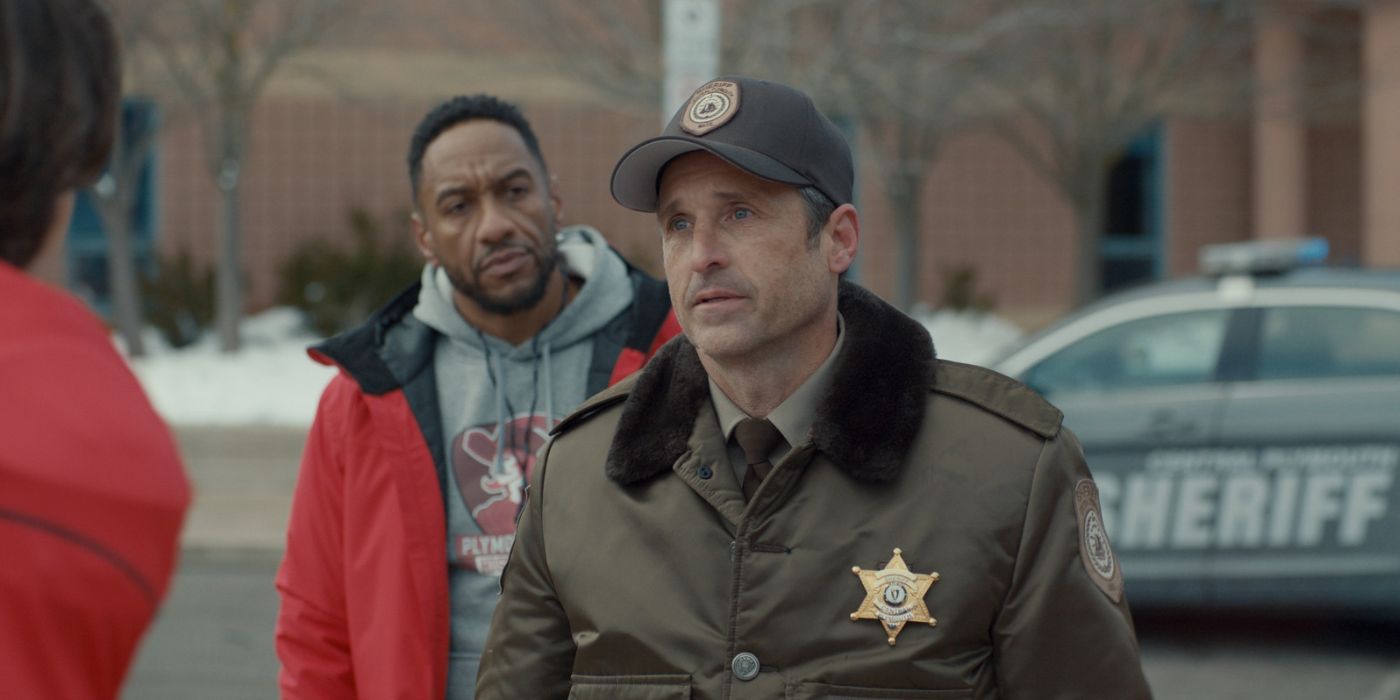 As the sheriff of a relatively small town, it's Eric Newlan's responsibility to keep everyone safe. On the night of the RightMark incident, he was called as an extra precaution to maintain the security of the store as Black Friday shoppers grew increasingly agitated at the storefront. When the killer makes it clear that they are targeting people who were there that night, Newlan turns to Jessica and her friends to try to identify as many people in the security footage, so he can warn them Sheriff Newlan is played by Patrick Dempsey, who finally got the opportunity to showcase his New England accent. Dempsey, who is also widely known as Grey's Anatomy's "McDreamy." He's also starred Disney's Enchanted and its 2022 sequel, Disenchanted, and most recently he starred in Michael Mann's Ferarri as Piero Taruffi.
Ty Olsson as Mitch Collins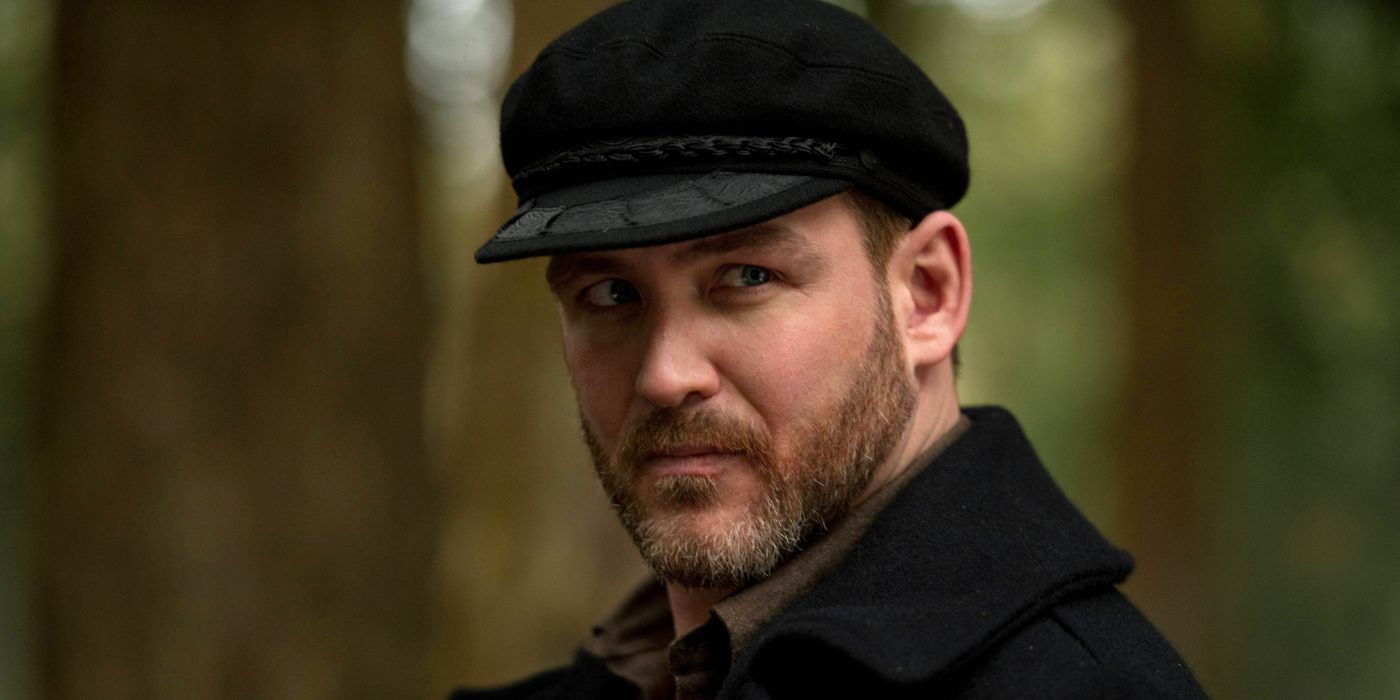 Played by Ty Olsson, Mitch Collins is the store manager at RightMart. Forced to cut his Thanksgiving dinner short after the store owner, Thomas Wright, insisted on opening the store early to make more profit. He attempts to keep the crowd under control with only two security guards to help him, but one flees and the other is crushed by the stampede of shoppers. His wife arrives at the store shortly before the doors open to deliver his turkey and fixings so that he doesn't miss his traditional meal on the night of Thanksgiving. She, unfortunately, becomes one of the victims as a result of the frenzy of people trying to get their discounted waffle irons and dies in his arms. Olson recently appeared in the Prime original series, The Power, and has also been in other major shows like Angry Birds: Summer Madness, Supernatural, and The Man in the High Tower.
Gina Gershon as Amanda Collins
Gina Gershon plays Amanda Collins, the caring wife of Mitch. After her husband is called in to provide extra support at RightMart, she prepares him a plate of the Thanksgiving spread that she made for dinner. Along with other family members, the Collins family also hosted Sheriff Newlan, who brings a pie and reveals himself to be recently divorced. When Newlan is called in to help with crowd control at the store, she accompanies him to bring her husband his dinner, so he doesn't "starve on Thanksgiving." However, the crowd rushes the store and Amanda is knocked to the ground, hitting her head and getting partially scalped when her hair gets stuck in the wheel of someone's shopping cart. As she dies in the opening sequence, it's safe to say that she can be checked off the list of possible suspects as the killer. That is unless her death is just one of the many Red Herrings in the movie. Gershon is a notable character actress, with her credits spanning from Face/Off to P.S. I Love You, she has an unmistakable charisma that she brings to each of her roles.
Rick Hoffman as Thomas Wright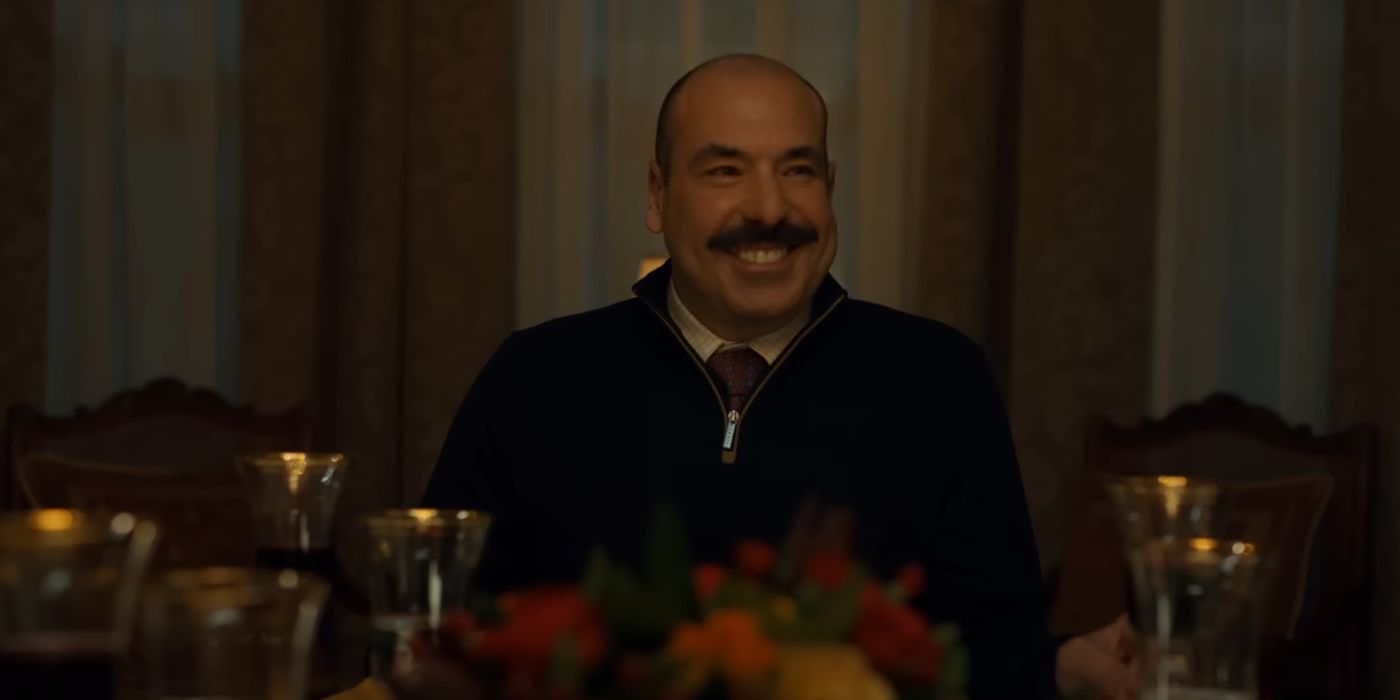 Eli Roth film veteran Rick Hoffman takes on the role of Thomas Wright, owner of the superstore known as RightMart. Hoffman previously worked with Roth in his 2005 horror movie Hostel, but is best known for his ability to play a "greedy, money-obsessed professional" as seen in his performances in Suits, Ballers, and even as a Wall Street businessman in The Day After Tomorrow. Fittingly, Hoffman's character in Thanksgiving is focused on one thing only… making money from his superstore. After the previous year's Black Friday incident, he is villainized by many Plymouth citizens, spearheaded by Mitch Collins, who lost his wife that night. Once he learns that he and his family are in danger, he tries to assuage public opinion by keeping RightMart closed on Thanksgiving, but will his last-minute efforts make a difference to the killer?
Karen Cliche as Kathleen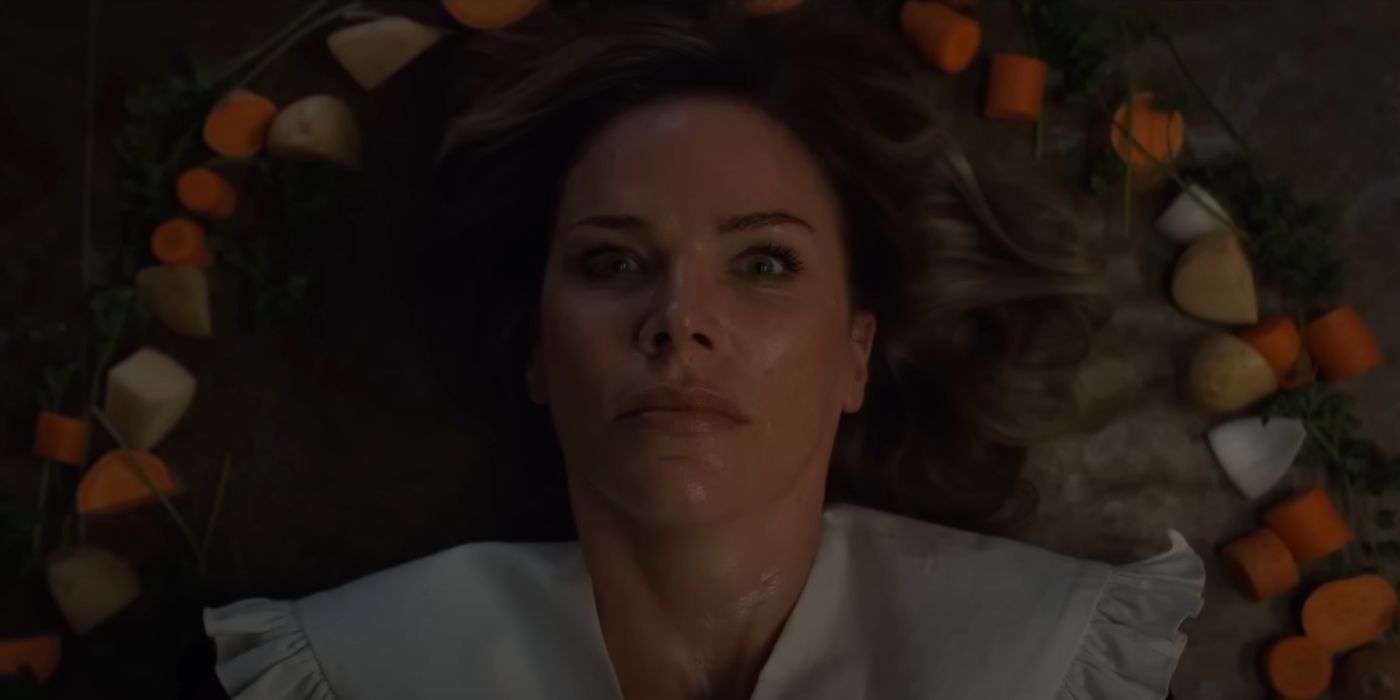 Kathleen is the new wife of Thomas Wright and stepmother to Jessica. She is the one who pushes Thomas to keep the store open for Black Friday, seemingly more interested in the financial aspects of their relatively new relationship. As a result, she is subsequently targeted by the killer and suffers what might be considered the cruelest death of the film. Kathleen is played by Karen Cliche, which could almost be considered a "cliché" because her character is a blonde, entitled woman. Cliche has a vast catalog of horror movies under her belt, including Saw VI, Abducted on Prom Night, Deadly Estate, and Galentine's Day Nightmare.
Thanksgiving will likely be exclusively in theaters for another few weeks as we approach the titular holiday (and subsequent Black Friday chaos). You can click the link below to purchase tickets.
Buy Tickets on Fandango