The Big Picture
Spider-Punk, also known as Hobie Brown, is a rebellious and radical version of Spider-Man from Earth-138 who fights against oppression and fascism.
Earth-138 is a gritty and violent world run by corporations, with an oppressive regime led by Oscorp's CEO, Ozzy Osborn.
In Spider-Man: Across the Spider-Verse, voiced by Daniel Kaluuya, Spider-Punk joins forces with other Spider-People to fight against a new threat and provides snarky and sarcastic energy to the film.
Even in a multiverse of big attitudes and big personalities, this Spider-Punk (voiced by Daniel Kaluuya) has all the other Spider-People beat. He doesn't like authority and is always going to stick it to the man, Spider-Punk is one of the most striking and memorable versions of our favorite webhead. He brought a punk-rock, anti-establishment attitude to the big screen when Spider-Man: Across the Spider-Verse hit theaters this week, dressed in a studded, sleeveless vest with a spiked mohawk atop his mask. With an electric guitar slung over his shoulders, Spider-Punk is an anarchist freedom fighter who oozes with a rebellious attitude and vibrant personality. But who exactly is this version of Spider-Man?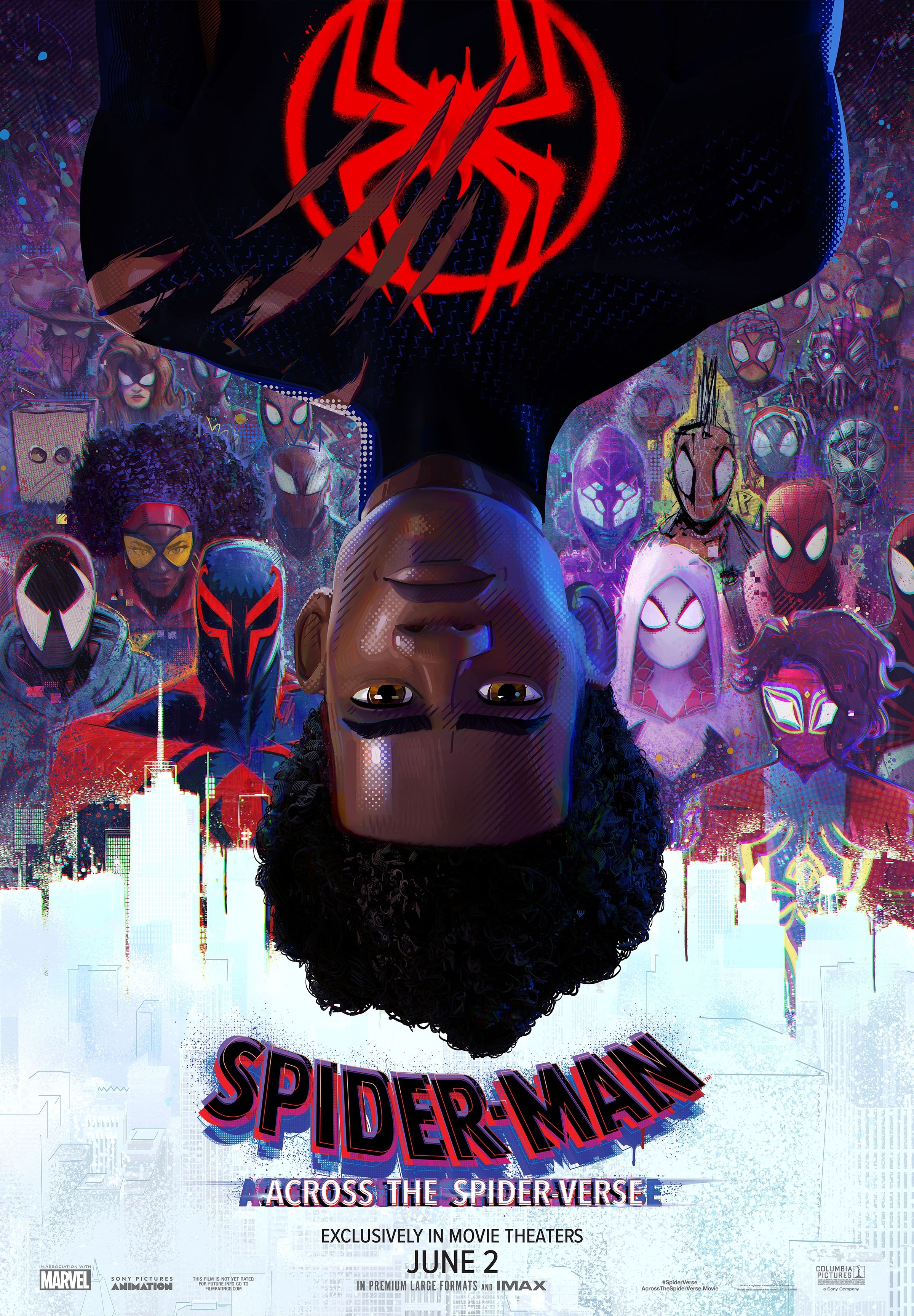 Spider-Man: Across the Spider-Verse
Miles Morales catapults across the Multiverse, where he encounters a team of Spider-People charged with protecting its very existence. When the heroes clash on how to handle a new threat, Miles must redefine what it means to be a hero.
Release Date

June 2, 2023

Director

Joaquim Dos Santos, Kemp Powers, Justin K. Thompson

Cast

Shameik Moore, Hailee Steinfeld, Oscar Isaac, Jake Johnson

Genres

Animation, Superhero, Action, Adventure
Call Him 'Hobie'
The Spider-Man from Earth-138 doesn't refer to himself as Spider-Punk, so you can call him by his real name: Hobart "Hobie" Brown. Anarchic Spider-Man, as you can also call him, was created by Dan Slott and Olivier Coipel, first making his debut in January 2015 in Amazing Spider-Man #10. This rocker version of Spidey was originally intended to be the design for Spider-UK, but was later changed into his own character due to how much Slott ultimately liked the character. This grittier and more hardcore version of Spider-Man adds spikes and rocker style to his costume, combining the aesthetics of the UK punk rock scene with the classic Spidey bodysuit.
Brown started out as a homeless teenager and was bitten by a radioactive spider created by illegal waste dumping. Upon gaining his powers, Brown became a freedom fighter who founded the Spider Army to fight against the fascist dictatorship run by corrupt leader, Ozzy Osborn. In addition to the classic spider powers of wall-crawling and web-slinging, Brown is also a genuine rock star who plays in a band and can use his guitar to shred more than just his music. And an artist that Hobie is a major fan of is his world's Gwen Stacy, an influential and popular musician in Earth-138.
In the mainline universe of Earth-616, Hobie Brown is a character in Earth-616 that initially starts off as a villain rather than a hero. In 616, Brown takes on the mantle of Prowler, a persona used by Miles Morales' uncle Aaron Davis in the Spider-Man: Into the Spider-Verse.
What's Happening in Earth-138?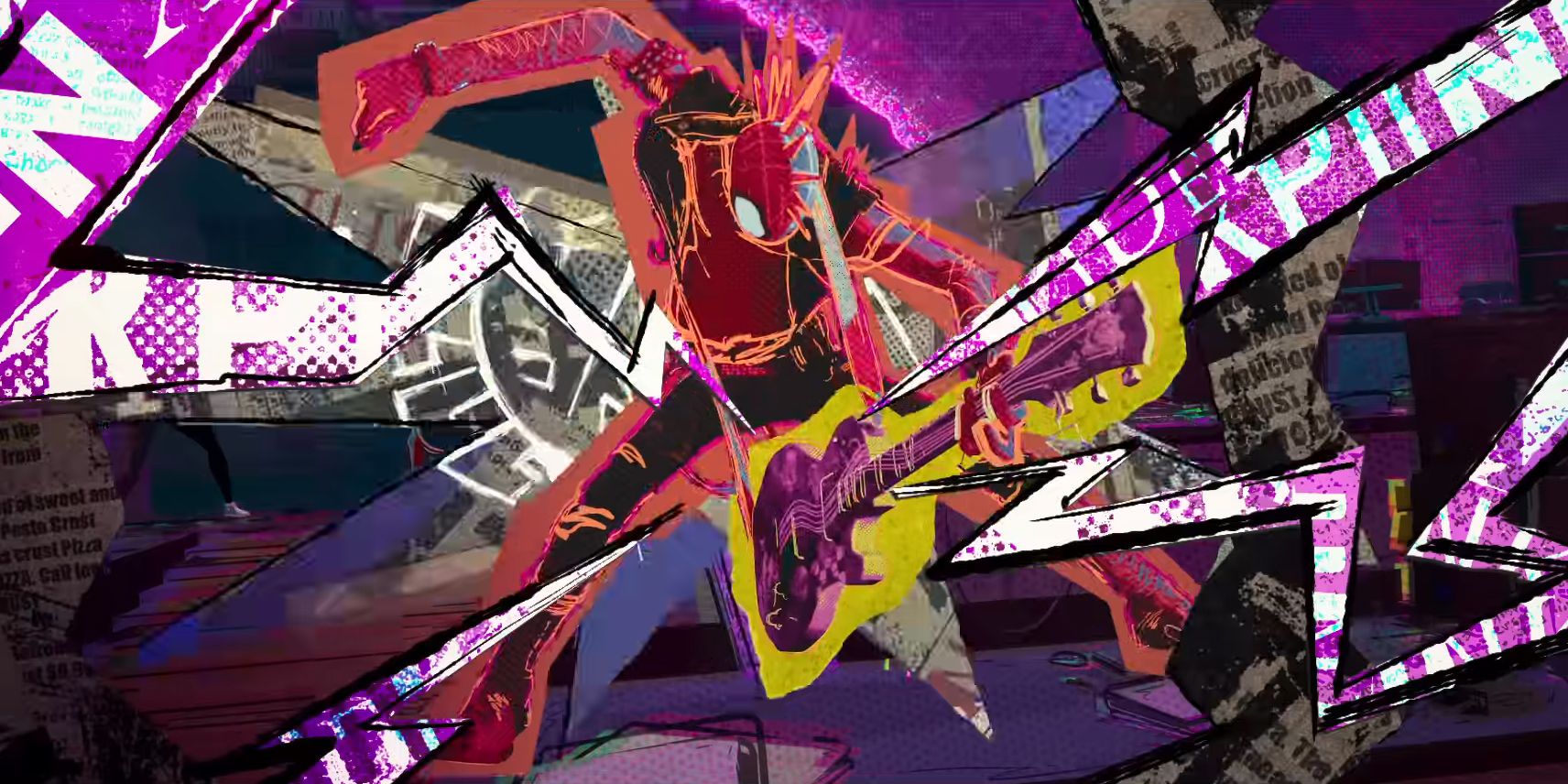 In Earth-138, America is run by corporations, with widespread poverty, injustice, and militarized police forces. The CEO of Oscorp in that world, Ozzy Osborn, became the President of the United States and created an oppressive regime to exert control. Oscorp would be responsible for creating Variable Engagement Neuro-sensitive Organic Mesh (V.E.N.O.M.), a symbiote-like enhancement used by Osborn's riot soldiers. But when the man is pushing down on the people, the people find someone to help them fight back.
Earth-138 is grittier and more violent than the classic 616, and that hard-nosed attitude applies to Spider-Punk as well. Hobie Brown is referred to as the Anarchic Spider-Man for a reason, as he leads a group of freedom fighters in revolt against Osborn. Brown leads the rebels as they fight against fascism, alongside notable heroes such as Captain Anarchy, Hulk, and Daredevil Drummer of Philly. These freedom fighters cause riots to usurp government control, literally using the power of punk rock music by channeling all their voltage to generate powerful shocking sound waves through their speakers against the cops. The brutality of the world feels distinct from other versions of Spider-Man, as in his final face-off against Osborn, Spider-Punk actually kills the oppressive president by bashing him with his electric guitar. Hobie Brown isn't just punk for the aesthetic, he's straight up fighting the establishments that are holding people down.
Spider-Punk in 'Across the Spider-Verse'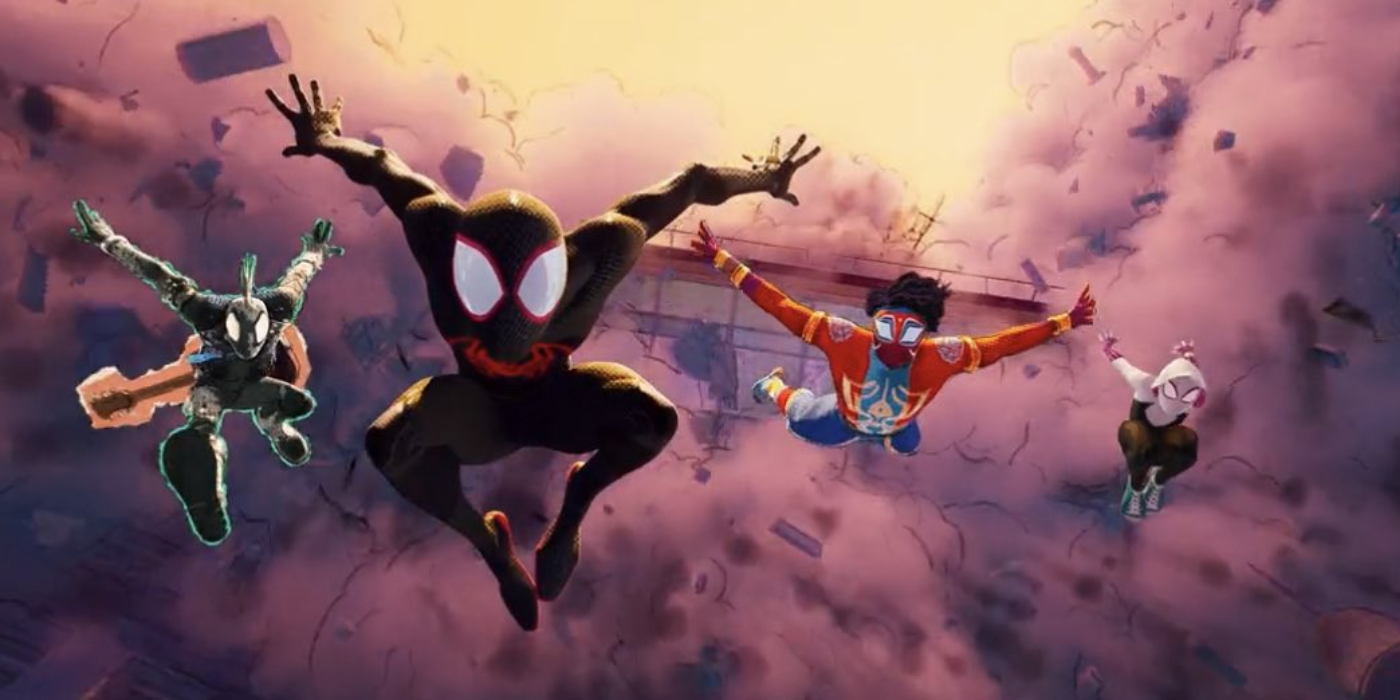 Hobie Brown makes his feature film debut in Across the Spider-Verse, voiced by the charismatic Daniel Kaluuya. Kaluuya makes his return to the Marvel after his role in Black Panther. Chosen in part due to his striking British accent, Co-director Kemp Powers had nothing but praise for Kaluuya, who was in his mind even while the character was still in design stages. Powers said, "He's a punk-rock poster come to life, and I love Daniel Kaluuya's Camden accent. Even as we were initially designing the character, I had Daniel's voice in my head." Kaluuya brings all the energy of a punk rocker to the screen, providing the snark and sarcasm needed to really capture the energy of Spider-Punk.
Hobie makes his first appearance as backup to help out Miles (Shameik Moore), Gwen (Hailee Steinfeld), and Spider-Man India (Karan Soni) in their fight against The Spot in Mumbattan, another dimension's combination of Mumbai and New York. We hear about him before meeting him, as Gwen had become friends with Hobie over their love of music. The punk rocker Spider-man is true to his music roots, appreciating Gwen as a drummer and fellow Spider-person. When Hobie gets to the fight at hand, he arrives in style, looking like he was pulled straight out of a band poster in a dive bar. He uses an electrical surge from his guitar to help break a force field preventing the heroes from getting to their guy, making a flashy debut that overshadowed
Hobie even takes some time to impart some advice on fighting the man to Miles— moments before Miles is confronted by the man. When Miles is interrogated by Spider-Man 2099 (Oscar Isaac), otherwise known as Miguel O'Hara, Hobie's anti-establishment comments and aloof attitude are humorously motivational. Miles, a combination of intimidated and inspired by Hobie, learns a few lessons about rebellion and doing the right thing from Earth-138's Spider-Man. And when his friend Gwen is trapped in her own universe, it's Hobie who sends her the tech needed to bust out and help her friend. If you needed someone to help you fight someone holding you down, look no further than Hobie Brown.
Spider-Man: Across the Spider-Verse is now available to stream on Netflix in the U.S.
Watch on Netflix