Trent McDuffie starred as the Kansas City Chiefs defense proved instrumental yet again to inspire Andy Reid's defending Super Bowl champions to victory over the Miami Dolphins in Frankfurt; the Chiefs built a 21-0 half-time lead before denying the Dolphins overtime late in the game.
By Cam Hogwood from Deutsche Bank Park, Frankfurt
Last Updated: 05/11/23 10:56pm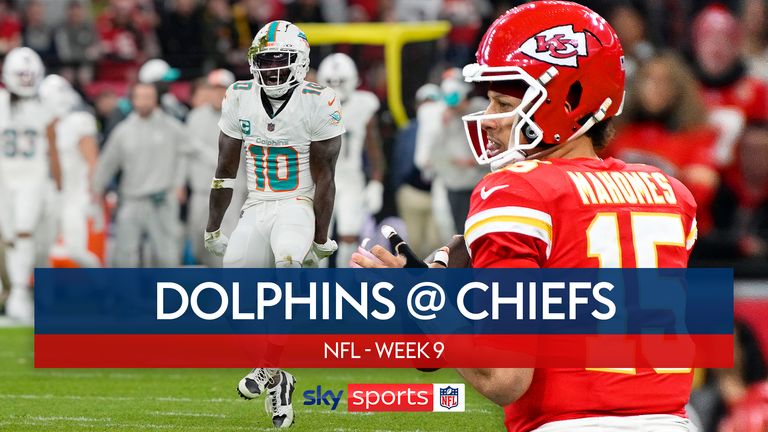 Highlights of the Miami Dolphins against the Kansas City Chiefs in Week Nine of the NFL season.

Highlights of the Miami Dolphins against the Kansas City Chiefs in Week Nine of the NFL season.
How fitting it would prove of a Steve Spagnuolo unit to play a defining role on his return to Frankfurt as the Kansas City Chiefs marched to victory over the Miami Dolphins on Sunday. 
Spagnuolo, who coached for the Frankfurt Galaxy in 1998, watched on as a Trent McDuffie-inspired unit contained one of the league's most potent attacks to underline the story of the season so far for the defending Super Bowl champions.
Tyreek Hill was limited to 62 yards while Tua Tagovailoa threw for a season-low 193 yards as Mike McDaniel's side suffered their third loss to a team with a winning record this season.
"The fact that they're so good at all three levels, they're deep," said Patrick Mahomes. "Guys rotate in. They can play. It's hard to get everybody snaps, that's how good they are. It's got to be the top defense in the NFL.
"That's a great offense. To hold them to 14 points where I fumbled in our own area for seven of those points, that's a tremendous job. I think they're going to continue to get better because they're young and they love it.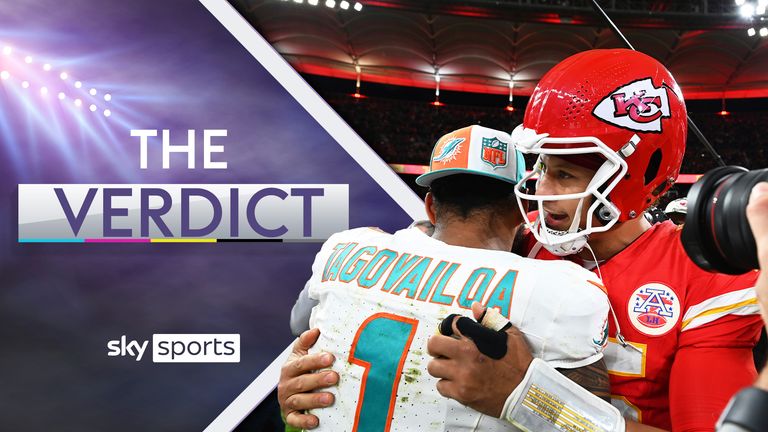 Sky Sports' Olivia Harlan Dekker and Cam Hogwood give their verdict on the Kansas City Chiefs' win over AFC rivals Miami Dolphins in Frankfurt, Germany.
McDuffie paved the way for the Chiefs to take a 21-0 lead into half-time when he dislodged the ball from Tyreek Hill to set up Bryan Cook's 59-yard fumble recovery.
Leo Chenal meanwhile stood firm in the face of Miami's wide zone running scheme, L'Jarius Sneed took ownership over the task of shadowing Hill, and 2020 undrafted free agent Tershawn Wharton was on hand to deliver a drive-derailing sack late in the fourth quarter.
"I knew they were going to be good. You look at the end of last year, they played great football and no one really noticed. I knew they were going to be good," said Mahomes.
"They brought back so many people, so many young guys, they were going to develop. I mean, the fact they're all developing this fast, I don't know if anyone could have guessed it. I knew they were going to be great as their careers went on. Good to have a lot of young guys that can play like that."
It marked the latest instalment of a standout year for McDuffie, who was notably acquired in the 2022 NFL Draft with one of the picks the Chiefs received during Hill's trade to the Dolphins.
"I'm blessed, look at what football can do, take it all across the world and put it in front of a whole new crowd, I love it," McDuffie told Sky Sports NFL. "They were whistling, yelling, clapping, I wanted to see what that soccer atmosphere look like and they brought it.
"Like I said you've got to get your hands on that man (Hill). He's fast, he's elusive, he can make a lot of plays, it's about limiting the explosives."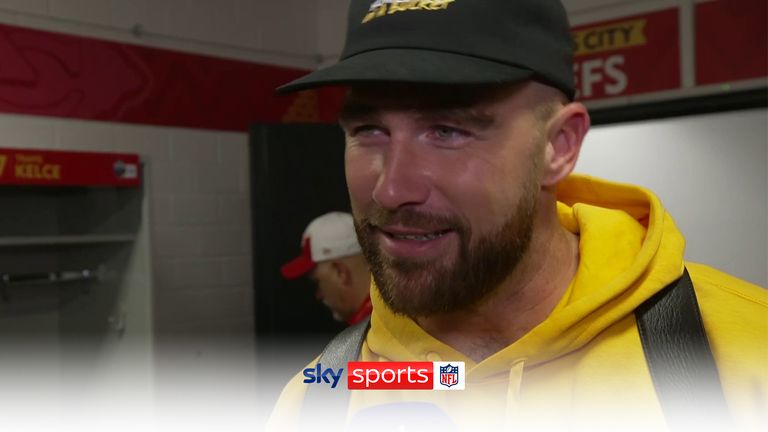 Travis Kelce hails 'special 'Kansas City Chiefs as his side moves to 3-0 in International games with a win over the Miami Dolphins in Frankfurt.
Miami threatened an unlikely comeback in the third quarter when Cedrick Wilson Jr and Raheem Mostert both found the end zone to cut the Chiefs' lead to seven points, only for Spagnuolo's defense to ice the game.
"We went in there (at half-time) and knew the game would come back to the defense, we had them at zero and the only way they could win was if we gave it up. Gotta love the tenacity we showed the whole game," added McDuffie.
"This defense has been wanted to score and create turnovers, it shows how great this defense is becoming."
Offensive fireworks have often been at the heart of Super Bowl charges for Andy Reid's Chiefs in recent years. This year has a different feel. The frightening prospect being the might of the defending champions should Mahomes and co. begin to pile up the points.
"Defensively, what a first half," said Reid. "What a second half. The fourth quarter was really something, which made a very exciting. The McDuffie strip of Tyreek, punching the ball out, Mike Edwards picking it up, Cook scoring. Doesn't get any better than that. Sneed's ability to match up most of the day on Tyreek was big, although Tyreek is a heck of a football player. He made a couple real nice plays in there, too."
"Typically two good offenses, that being the No. 1 offense, the Dolphins, in the National Football League right now," said Reid. "For the things that our defense did right there, that was a tremendous achievement. Obviously we got to keep it going. You're just as good as the next game that you play in. That was a heck of an achievement. [Defensive coordinator] Steve [Spagnuolo] did a great job with scheming it. The players executed very well.
Week Nine concludes on Monday night when the Los Angeles Chargers visit the New York Jets, live on Sky Sports NFL from 1.15am in the early hours of Tuesday; Stream the NFL and more with NOW