Max Verstappen topped both practice sessions for Red Bull on Friday; Lando Norris second as Lewis Hamilton off the pace in seventh; watch Practice Three live on Sky Sports F1 at 6.30pm on Saturday, followed by qualifying at 10pm
Last Updated: 28/10/23 1:47am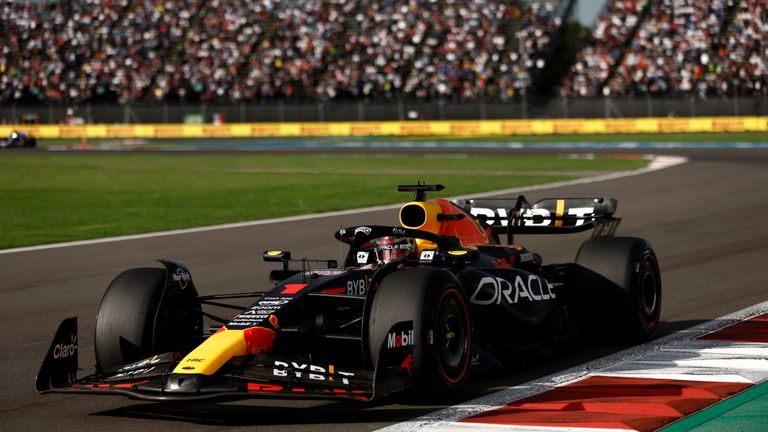 Max Verstappen completed a Friday practice double at the Mexico City Grand Prix as Lando Norris emerged as the world champion's most likely pole challenger.
Verstappen, who is seeking a record 16th victory of the season, gave Red Bull a perfect start to the weekend by setting a 1:18.686 to top McLaren's Lando Norris by just over a tenth of a second.
Charles Leclerc took third for Ferrari, while Verstappen's Red Bull team-mate Sergio Perez, urged on by the hugely supportive crowd at his home race, was fourth.
Either side of him there were surprise successes, with Valtteri Bottas fourth for Alfa Romeo and Daniel Ricciardo sixth for AlphaTauri.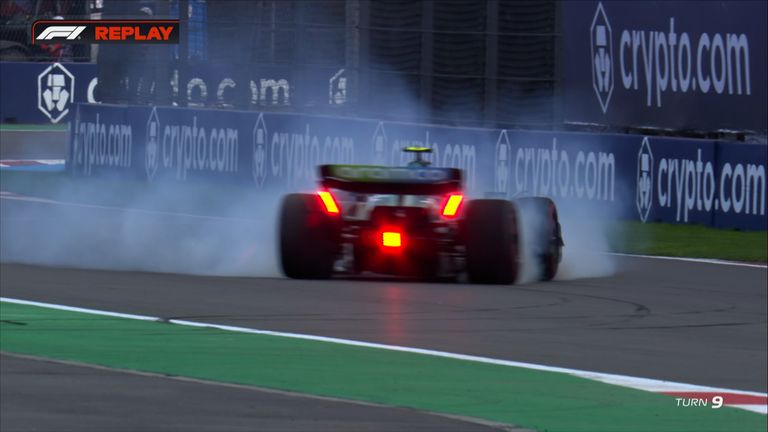 Fernando Alonso loses control, spins then styles it out through the fast Turn Nine during P2
Having finished 11th in first practice, Lewis Hamilton was once more unable to fulfil his hope of being able to challenge Red Bull as the seven-time world champion was seventh.
His Mercedes team-mate George Russell was only 10th, having earlier been one of five drivers to sit out first practice as teams took the opportunity to fulfil their obligated young driver sessions.
While Mercedes may be disappointed not to have shown more speed following their upgrades last weekend in Austin, the uniquely high altitude of Autodromo Hermanos Rodriguez means there are likely to be significant overnight adjustments which could alter the pecking order.
Former strategist Bernie Collins explains the impact the high altitude will have on the cars at the Autodromo Hermanos Rodriguez
"The car is night and day different compared to last week and yeah… I don't really know what to say," said a puzzled Hamilton. "You just never know what you're going to get with this one. Some days she's great and some day's she's not.
"It's hard to extract the lap. I think there definitely is performance there, it's just trying to extract it and it's quite peaky this weekend maybe just with the aero map or whatever it may be.
"So we're going to work on it overnight but it definitely wasn't a fun day compared to P1 in Austin. We were a bit off but hopefully overnight we can find something and [on Saturday] maybe the car will be nicer to drive."
Also out of position was Ferrari's Carlos Sainz, who was only 11th.
Further back, Aston Martin endured a torrid day as Lance Stroll finished 18th and Fernando Alonso 20th, with the Spaniard spinning off as he struggled in a car that has regressed since appearing to be Red Bull's biggest rival during the first half of the season.
Verstappen faster 'than expected' | Mercedes underwhelm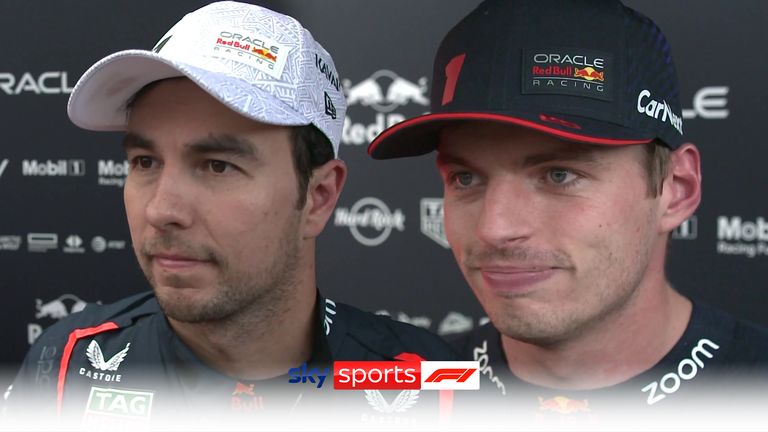 Max Verstappen say it was a better Friday than expected While Sergio Perez says Friday practice wasn't straightforward.
Having said on Thursday that he thought the track would pose a challenge for a car that has won all but one of 18 Grands Prix this season, Verstappen somewhat contradicted his prediction by spending most of Friday at the top of the timesheet.
While it was an unorthodox day of F1 practice, with the young drivers competing in FP1 and prototype development tyres used, not exclusively, in both sessions, the Dutchman established himself as favourite for qualifying on Saturday.
"Of course we look competitive, so that's good," Verstappen said. "There are always a few things to still improve but overall, a positive start to the weekend – probably a little better than I expected, so that's always good."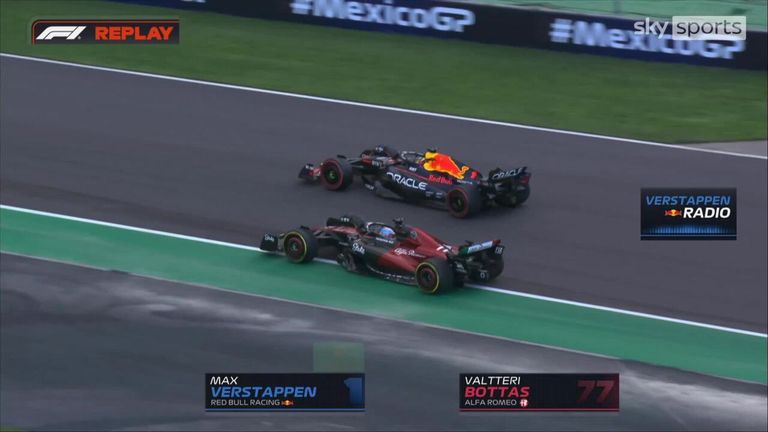 Valtteri Bottas uses DRS to race Max Verstappen down to Turn 1 in P2.
However, unlike at the two Sprint weekends that preceded this event, at which teams only had 60 minutes to set up their car for the competitive action, overnight adjustments are likely to play a key role.
Hamilton had been in buoyant mood on Thursday, dismissing suggestions that the excessive plank wear – resulting from his car being too low to the ground – that saw him disqualified from second in Austin had been in a major factor in an impressive display.
Mercedes have often been able to find gains between second and third practice throughout the season, and Hamilton will undoubtedly be working late into Friday evening to extract the maximum from the W14.
Like Verstappen, Norris had also warned that the circuit's slow corners may not suit his McLaren, but produced another impressive display to suggest he will be in with a chance of claiming a fifth successive podium finish on Sunday.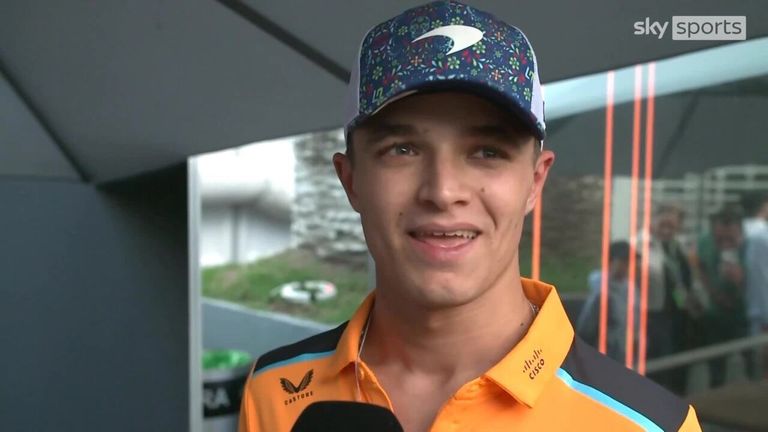 Lando Norris says he did a lap that was too quick for a Friday at the Mexico City GP.
"It's close," confirmed Norris. "Things can swing very quickly either way. I did a good lap – maybe too good for this early in the weekend!
"We'll continue to try and improve, but it's a good start."
But he did at the same time also warn: "There's stuff to improve from my driving, little things here and there, but to challenge the Red Bull I think is going to be tough around here."
Mexico City GP Practice Two Timesheet
| | | |
| --- | --- | --- |
| Driver | Team | Time |
| 1. Max Verstappen | Red Bull | 1:18.686 |
| 2. Lando Norris | McLaren | +0.119 |
| 3. Charles Leclerc | Ferrari | +0.266 |
| 4. Valtteri Bottas | Alfa Romeo | +0.269 |
| 5. Sergio Perez | Red Bull | +0.302 |
| 6. Daniel Ricciardo | AlphaTauri | +0.316 |
| 7. Lewis Hamilton | Mercedes | +0.338 |
| 8. Esteban Ocon | Alpine | +0.391 |
| 9. Oscar Piastri | McLaren | +0.477 |
| 10. George Russell | Mercedes | +0.541 |
| 11. Carlos Sainz | Ferrari | +0.571 |
| 12. Yuki Tsunoda | AlphaTauri | +0.604 |
| 13. Zhou Guanyu | Alfa Romeo | +0.729 |
| 14. Alex Albon | Williams | +0.760 |
| 15. Nico Hulkenberg | Haas | +0.849 |
| 16. Pierre Gasly | Alpine | +0.956 |
| 17. Logan Sargeant | Williams | +1.214 |
| 18. Lance Stroll | Aston Martin | +1.389 |
| 19. Kevin Magnussen | Haas | +1.426 |
| 20. Fernando Alonso | Aston Martin | +1.740 |
When to watch the Mexico City GP live only on Sky Sports F1
Saturday
6.15pm: Mexico City GP Practice Three
9pm: Mexico City GP Qualifying build-up (also on Sky Sports Main Event)
10pm: Mexico City GP Qualifying (also on Sky Sports Main Event)
Sunday
6.30pm: Grand Prix Sunday Mexico City GP build-up (also on Sky Sports Main Event)
8pm: The MEXICO CITY GRAND PRIX (also on Sky Sports Main Event)
10pm: Chequered Flag: Mexico City GP
F1 is in Mexico for the middle leg of the Americas triple header. Watch the whole Mexico City Grand Prix weekend live on Sky Sports F1, with Sunday's race at 8pm. Stream F1 on Sky Sports with NOW