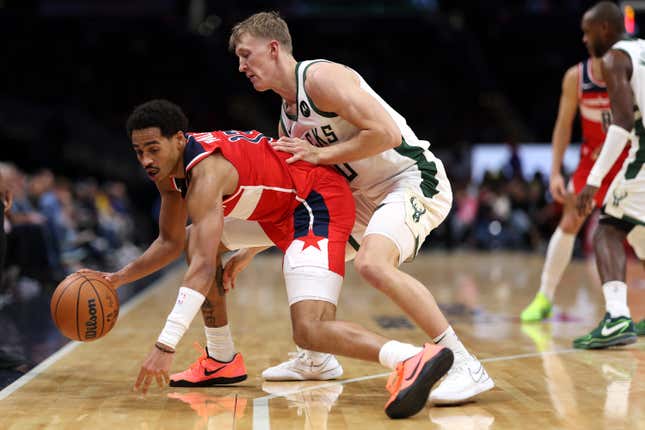 The Washington Wizards are an absolute mess. They are one of the three worst teams in the NBA and they are reportedly already regretting the trade that brought Jordan Poole to the nation's capital. Chris Paul might be a dirty, old man on the court, but at least he pays attention and takes the game seriously.
Jordan Poole ruins Golden State Warriors comeback and… we're being too hard on him | Keep it a Buck(et)
In fewer than 15 games in Washington, Poole has already compiled a lowlight reel for the ages. One bonehead play after another, like he's living in his own world. Not even the baddies courtside can get the Poole party started in D.C. Although, he did turn up a bit with a season-high 30 points Monday night against the Milwaukee Bucks. The Wizards still lost by 13, even with Poole's contribution.
Poole has played 13 games in a Wizards uniform and rumors that the team is ready to use him as a trade piece have begun to circulate. They've barely completed 15 percent of the season and have had enough of Poole's foolishness. Ultimately, Washington's front office execs have only themnselves to blame. They actually thought it'd be a good idea to pair Poole with Kyle Kuzma and let them run amuck.
This is like a Hollywood script where the team starts off embarrassingly bad, but there's no triumphant comeback and happy ending for this cast. The Wizards need to go ahead and start fielding calls now for Poole after that 30-point performance, as his stock may not be this high again for some time. Surely, if Washington could ship him back out right now, they would, but they'll likely have to wait until closer to the trade deadline in February.
Meanwhile, even in their own struggles early on, the Golden State Warriors must be watching and chuckling just a little. They miss Poole's scoring right now, but the immaturity had become too much in a locker room led by veterans with a championship pedigree.
It's not that Poole is a bad player. He's too careless and worries more about showing off for the ladies sitting courtside than helping his team. Poole doesn't give much effort defensively, so he's a liability if he isn't scoring more than 20 points. There's no reason he can't average 22-28 per game in Washington, yet here we are. Poole has only scored 20 or more three times in 13 games and has one 30-point outing. That certainly isn't what the Wizards signed up for.