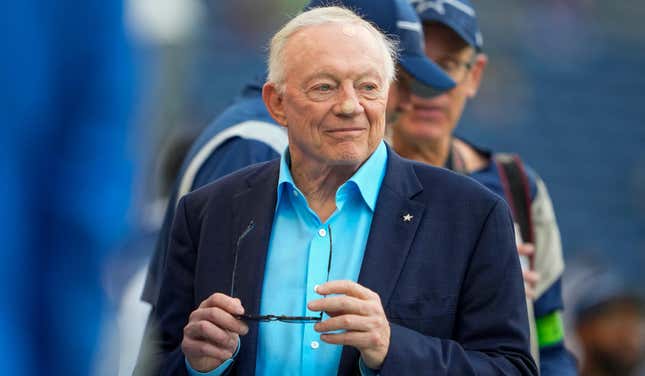 Tuesday was a busy one in the NFL, with teams — contenders and pretenders — scrambling to make last-minute deals ahead of the 4 p.m. EST trade deadline. Meanwhile, Jerry Jones and the Dallas Cowboys, who, unlike the Chicago Bears — who traded for Commanders DE Montez Sweat — actually have a shot at a postseason run, sat back and watched the deadline come and go like spectators.
"I do like this roster. … If we don't do anything at this trade deadline, we've got a team, in my mind, that can get us where we want to go," the Cowboys owner said.
Is Dan Snyder a human shield for Jerry Jones? | Conspiracy Thursday
Multiple NFC contenders made moves to bolster their depth charts within the week leading up to Tuesday's deadline, including San Francisco (acquired DE end Chase Young from Washington), Seattle (picked up DL Leonard Williams from the Giants), Detroit (brought in WR Donovan Peoples-Jones), and Philadelphia landed All-Pro safety Kevin Byard.
"The initiation of an opportunity to make a trade at this time that would help us principally has to start over on the other end… I like where we are with our personnel today," Jones told Dallas sports talk station 105.3 The FAN.
Dallas, a contender at 5-2 — second in the NFC East and currently the No. 5 seed if the playoffs started this weekend — stood pat. The confidence Jones displays in his team could be something to admire, or it could be a supposedly shrewd businessman shrinking when it's time to close a deal. Not even attempting to go after anyone looks weak and shows that the Cowboys are still a tier below the top teams in the league.
Dallas has a good roster, but there's always room for improvement. The Cowboys could use some help offensively in the backfield. As we get later into the season, depth will become an even more crucial factor.
This non-movement by Jones at the deadline is bound to come back and bite him and his Cowboys in the rear end by January. Standing pat sends the message that he thinks his team is already the best they can be. Clearly, this is not the case. This level of stubbornness can only be chalked up to being super delusional or too senile to realize the error of his ways.