Is there anything better than that walk down memory lane, wondering what if and what could have been?

This holiday treasure weaves a tale of two inseparable friends whose festive homecoming sparks a life-altering revelation, reminiscent of the heartwarming escapades in cult classics like Romi & Michelle's High School Reunion and Sixteen Candles.

Hallmark's ability to capture the holiday spirit is indisputable, but with Never Been Chris'd, they've tapped into the very essence of festive nostalgia and the enduring power of friendship.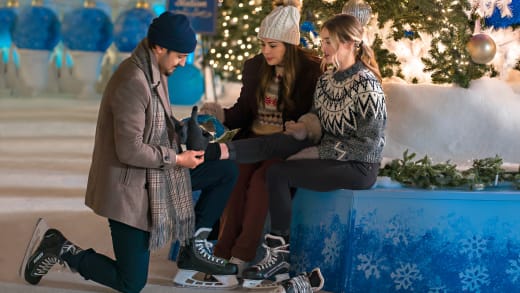 Recent years have seen this exploration enhanced, which is a delightful pivot underscoring the timeless theme that friends are the family we choose.

Bringing friendship to the forefront of Hallmark's programming has opened new storytelling avenues that never cease to amaze.

Janel Parrish and Pascal Lamothe-Kipnes star in this instant classic as Naomi and Liz, who couldn't be closer if they'd been twin sisters.

Like Romy and Michele before them, Naomi and Liz are an inseparable duo. They share a history so interwoven that each memory is a shared treasure. Where one went, the other followed, and every one of life's milestones is a testament to their bond of frienship.

But that unique connection can also come at a cost, and their journey home for the holidays reveals that even the strongest bonds can carry the weight of sacrifice.

Like Romy and Michele, Naomi and Liz missed out on a lot in High School, feeling as though they were on the outside looking in, gazing wistfully at a world just out of their reach.

Their careers have flourished, but their personal lives have never experienced the same levels of success.

While it's never overtly said that their high school days were devoid of romance, their lingering attraction for high school crush Chris Silver, played by the ever-engaging Tyler Hynes, hints at unanswered teenage dreams.

It seems like the quintessential teenage struggle, pretending to have it all togther when we're rife with deep-seated doubts. It's a feeling that gets magnified when standing in front of your high school peers.

That insecurity often lingers on, creating a warped image of the past while casting a shadow on your future.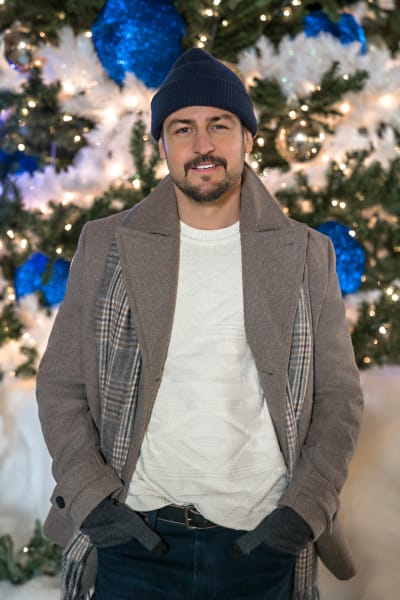 Upon their return, they're thrust headfirst into their future after a surprise encounter with their handsome high school crush and man of their dreams, Chris Silver.

Chris is warm and welcoming, and, in Hynes's ridiculously smooth voice that makes your heart go pitter-patter, he brings Naomi and Liz out of their cocoon to interact with a group of long-time friends who have always been within their reach.

That encounter acts as a catalyst, propelling Naomi and Liz from the safety of their friendship into a new and exciting future that tests the strength of their bond.

The nuanced storytelling goes beyond any epiphanies the friends have come from their shared interest in Chris; it's much deeper than that.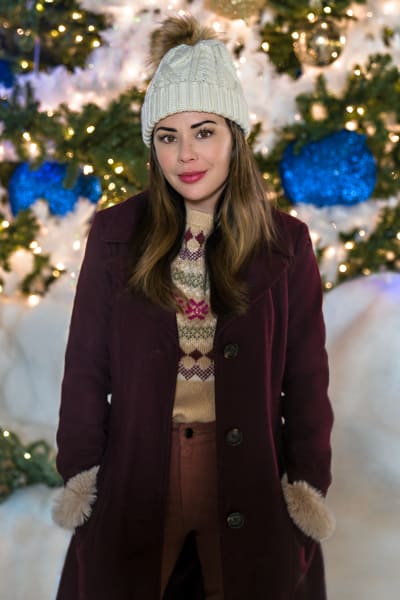 Naomi and Liz embark on the unexpected hometown adventure of a lifetime as they revisit their past and realize that the only thing that might have been holding them back was each other.

They always say that hindsight is 20/20, but when it comes to high school, it's hard to take off the blinders. Your insecurities follow you like a persistent cloud, darkening not only what you recall about those tumultuous years but how you move beyond them, too.

Joie Botkin (who co-wrote Hynes' Falling For You and wrote the recent 3 Bed, 2 Bath, 1 Ghost) writes a script that reaches the deep recesses of your heart.

She knows her audience, and she not only tells a story with Never Been Chris'd — she's also asking you to reconsider everything you knew about your own high school experience.

One of the greatest teen love stories ever told, especially for every wallflower who dreamt of landing the cute, popular boy in school, came by way of Samantha and Jake in Sixteen Candles.

Director Jeff Beesely uses Hynes's magnetic screen presence to the story's advantage, painting a picture of what the grown up Jake Ryan might have become. Chris is the Jake for a new generation.

Naomi and Liz together represent every teen girl who felt left behind and unseen, daring only to fantasize about a life beyond the uncertainties of youth.

Through them, we explore the transformative power a shift in perspective can offer, as they blossom from wallflowers hiding behind their successful careers into the creators of their own fate.

Parrish is no stranger to this kind of role, and you can see a little bit of Pretty Little Liars Mona Vanderwaal in her portrayal of Naomi — if Mona hadn't had a vindictive streak, that is.

What's really hard to believe is that this is only the sixth acting credit for Lamothe-Kipnes, who stands beautifully beside two actors who have grown up in the industry.

Naomi and Liz are as different as they are alike, but the strength of their bond seems unbreakable in large part because of the indelible performances of Parrish and Lamothe-Kipnes.

There is so much to love about this movie, which goes beyond a traditional holiday movie by delving deep into the heart of friendship and self discovery.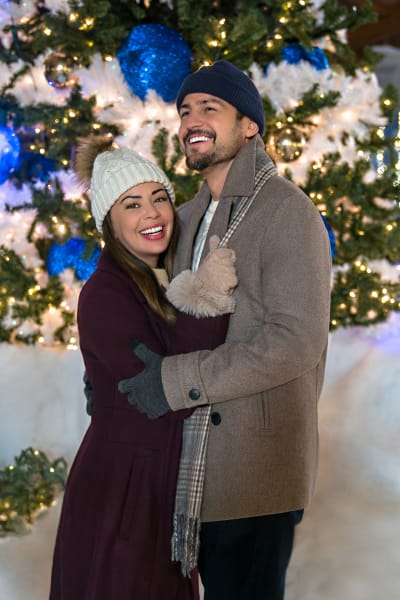 All the holiday traditions are present, but it's what you feel while watching and what you take away when it's over that will send this movie to the top of your annual watch list.

Watching Hallmark during the holiday season has become one of our greatest pastimes, and Never Been Chris'd delivers on the network's promise that our Countdown to Christmas will be filled with joy.

Never Been Chris'd premieres on Saturday, November 4 at 8/7c on Hallmark Channel.
Carissa Pavlica is the managing editor and a staff writer and critic for TV Fanatic. She's a member of the Critic's Choice Association, enjoys mentoring writers, conversing with cats, and passionately discussing the nuances of television and film with anyone who will listen. Follow her on X and email her here at TV Fanatic.