It's no secret that Dwight and Sherry are some of my favorite characters, so Fear the Walking Dead Season 8 Episode 9 had a major advantage going into it with the knowledge it would be focused on both characters.

While there were some great moments of the pair unpacking their trauma after returning to The Sanctuary, the decision to include Dove as yet another kid who needed saving was both random and a part of the bigger problem with the series as a whole.

Dwight and Sherry's relationship was underpinned by their time at the Sanctuary under Negan's rule, and it's a miracle they managed to come out the other end of it after reuniting on Fear the Walking Dead Season 6.

They had so much to unpack that their latest reunion would have worked far better had it just been them in the Sanctuary.

If you watch Fear the Walking Dead online, you know that Dwight had this inner conflict after Finch's death that he felt the best route forward would be for him to go home and leave Sherry behind.

Their relationship has been made stronger by the bumps in the road for them. They were strong as hell pre-apocalypse but lost sight of that due to Negan's harsh regime.

They somehow managed to come out the other side, so it was surprising that Dwight felt it was better for them to proceed in this world alone.
Sherri: There's a fight coming.
Dwight: Okay. What kind of fight?
June: One we can't win without you. This guy Troy. He's got a score to settle with Madison, and he plans on settling it by taking over PADRE.
Dwight: Oh, it sounds like Madison's fight to me.
June: Yeah, well… she made it ours. She's M.I.A. And she left Strand in charge.
Dwight: Victor's still alive?
June: A lot has happened since you left.

For some, pain is too difficult to endure, and knowing all of the missteps he made in his life, Dwight was likely worried about the prospect of losing Sherry if they wound up in another sticky situation. 

Returning to their home was interesting because going back to this location that preceded their turn on The Walking Dead helped make this world more fully realized.

The last thing Dwight expected was for someone to be taking up residence in his home with a story about people at the Sanctuary stealing his insulin.

If you watch The Walking Dead online, you know Dwight and Sherry wound up in a lot of trouble at the Sanctuary due to Sherry's sister, Tina, not completing the work required of her to get her medication.
Dwight: Yeah, w-what does any of this have to do with me? I'm… I'm just a little confused here.
Sherri: You trained every kid on the island. They'll listen to you. They trust you. There's nothing that I could say or… or do that you couldn't do better. And what… Dwight: You. Why… Why are you here?
Dove: PADRE is the only home I've ever known. Without it… I don't… I got nothing.

What are the chances of Dwight returning home, only to find himself being asked to go back to that horrible location for insulin, of all things?

Jay could have been this big villain, but it turns out there are coincidences, even a decade and more into the apocalypse.

Dwight was skeptical because he knew that nothing happened for free in that universe, but there was a part of him that wanted to help someone in need.

When Dwight was introduced on The Walking Dead Season 5, he made many bad decisions but slowly tried to make up for them and succeeded by the time Daryl told him to leave or be killed.

At the time, we weren't told the gravity of how that exchange affected him, but being back in the Sanctuary's proximity made him think more about his actions.
The rest of the place is clear. But we got to hurry up. We probably have an hour before they get here.

Dwight

Seeing him slip out of it after being shot showcased that Dwight strived to be a better person and that it was driven by Daryl's words.

Who would have thought it?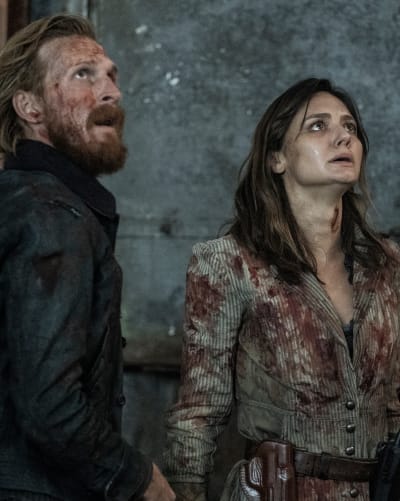 Dwight felt terrible that Jay died and turned into a walker just as he got back with the medication.

Knowing how hard he fought for that man, he had only just met would have made Daryl proud because it highlighted that Daryl knew there was a change in him.

Sherry showing up in the nick of time is pure Disney, but seeing the worry on her face, fully knowing she's going back to a place she doesn't look back on fondly, was well played by Christine Evangelista.

There's so much history between Dwight and Sherry that would have made this journey far more intriguing if June and Dove weren't along for the ride.

That's not to say I'm not a fan of June and Dove, but they were randomly brought along to add unnecessary drama to Dwight and Sherry's storylines.
Dwight: How you doing, kid?
Odessa: Better now. You coming with us?
Dwight: Yes. Yeah, I am. Yeah. N-Never should have left. Maybe we can turn that place into what it's supposed to be.

Sherry wanted to ensure Dwight's safety and give him a sense of purpose after their son's death, but I don't think telling him that Madison needed them was the way to frame that conversation.

Dove rushing off early in the morning, only to return shot, forcing the gang to go to the Sanctuary to save her life was sheer stupidity.

Fear the Walking Dead's writing for teenagers has been questionable, to say the least, but Jayla Walton did the best with what she was given.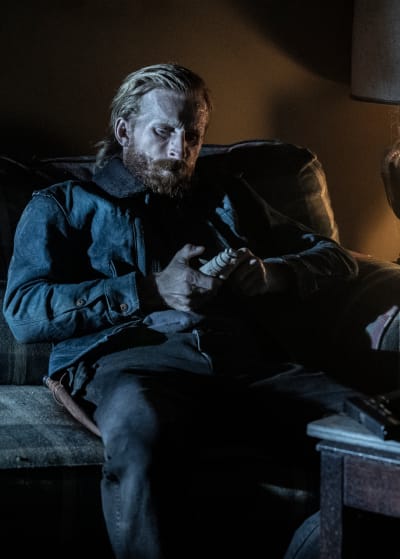 The only good to come from this situation is that Dwight and Sherry confronted their demons and are now headed back to help Madison as one.

Something good has to come from all of these people putting their lives on the line for Madison Clarke.

The biggest shocker of the episode was Strand slipping back into his Tower Strand cosplay and trying to manipulate Troy's daughter to save P.A.D.R.E.

Does Madison, Daniel, or even Troy know Strand located the kid?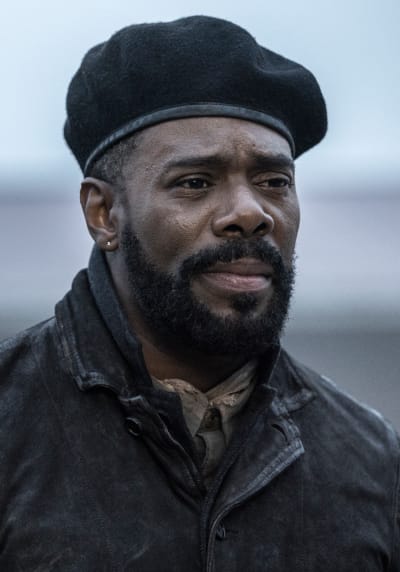 It was a complete 180 from the rest of the hour, but it was oddly satisfying to see Strand back to his old ways.

Colman Domingo plays a great villain, but something tells me Strand has bitten off more than he can chew with his latest act.

What are your thoughts on Sherry and Dwight revisiting old haunts?

Do you think Strand made a mistake?

Fear the Walking Dead continues Sundays at 9 p.m. on AMC and AMC+.
Paul Dailly is the Associate Editor for TV Fanatic. Follow him on X.