Margot Robbie, the producer, has been waves in Hollywood with her latest film Barbie quickly becoming the most successful film in Warner Bros. history, as the billion-dollar grossing film from director Greta Gerwig has broken almost every record in the books and become the highest grossing movie ever made by a female director. But Margot Robbie's producer credentials go much further back, as she has produced acclaimed films with female talent, from the prestige biopic I, Tonya, to the DC Comics romp, Birds of Prey, and also Emerald Fennell's debut feature film, Promising Young Woman in 2020, which won Fennell an Academy Award for best original screenplay.
The film starring Carey Mulligan was a breakout success that has been embraced with love by many people since, including the Academy, who nominated it for four Oscars. This year Emerald Fennell is back with her sophomore feature, Saltburn, a British posh mystery drama featuring Barry Keoghan, Jacob Elordi, and Rosamund Pike, which is expected to be another significant contender during this Awards season. This means Margot Robbie has two films on her hands this year that are potential Oscar contenders with Saltburn and Barbie, and Emerald Fennell even appears in the latter film as the pregnant Barbie, Midge. So if you liked Promising Young Woman and the other films Margot Robbie has produced and are excited about Saltburn, here is everything we know about the movie.
Editor's Note: This article was updated on November 20.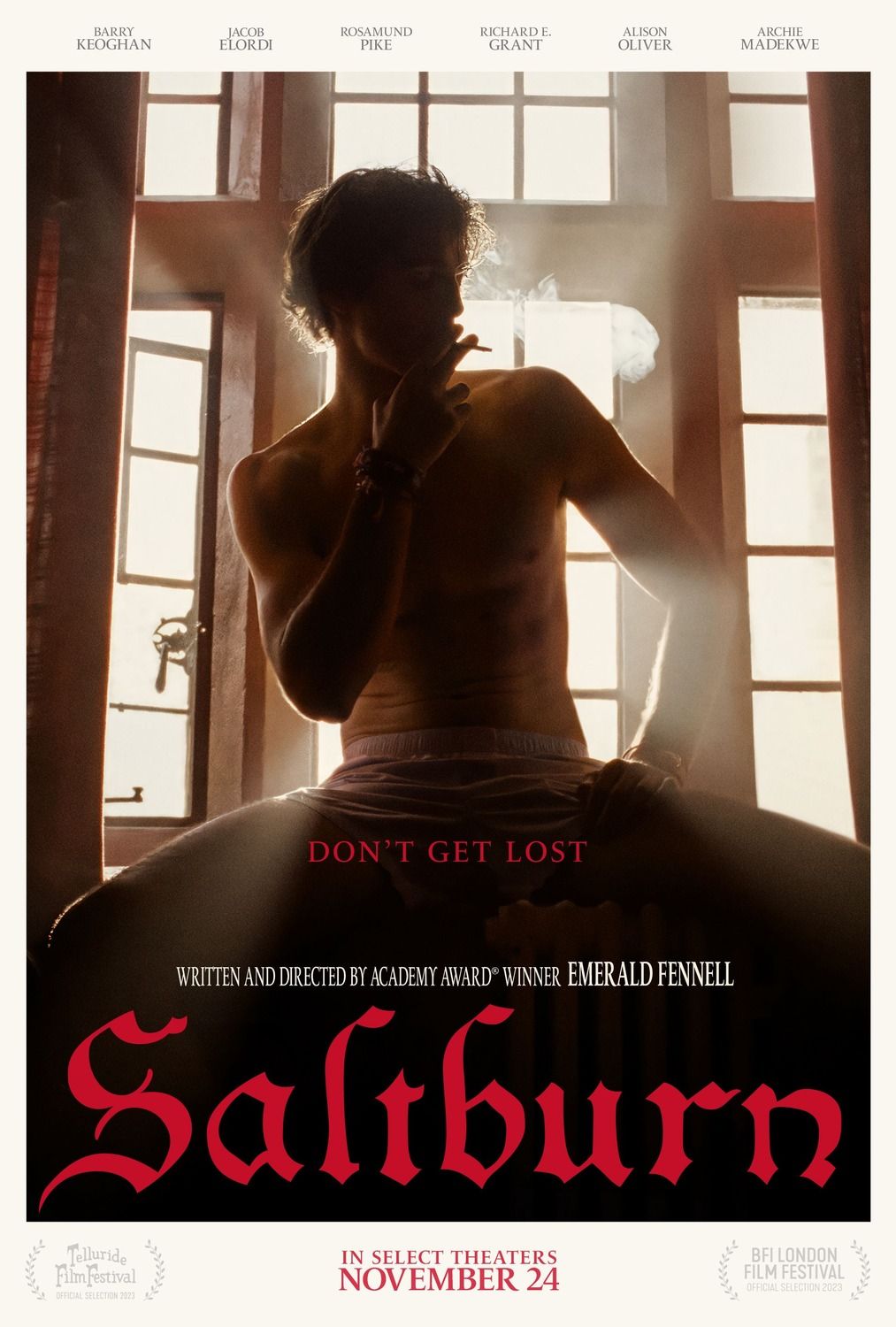 Saltburn
Release Date

November 17, 2023

Director

Emerald Fennell

Cast

Rosamund Pike, Barry Keoghan, Jacob Elordi, Carey Mulligan, Archie Madekwe

Rating

R

Runtime

127 minutes

Main Genre

Drama

Genres

Comedy, Drama, Thriller
When Is 'Saltburn' Coming Out?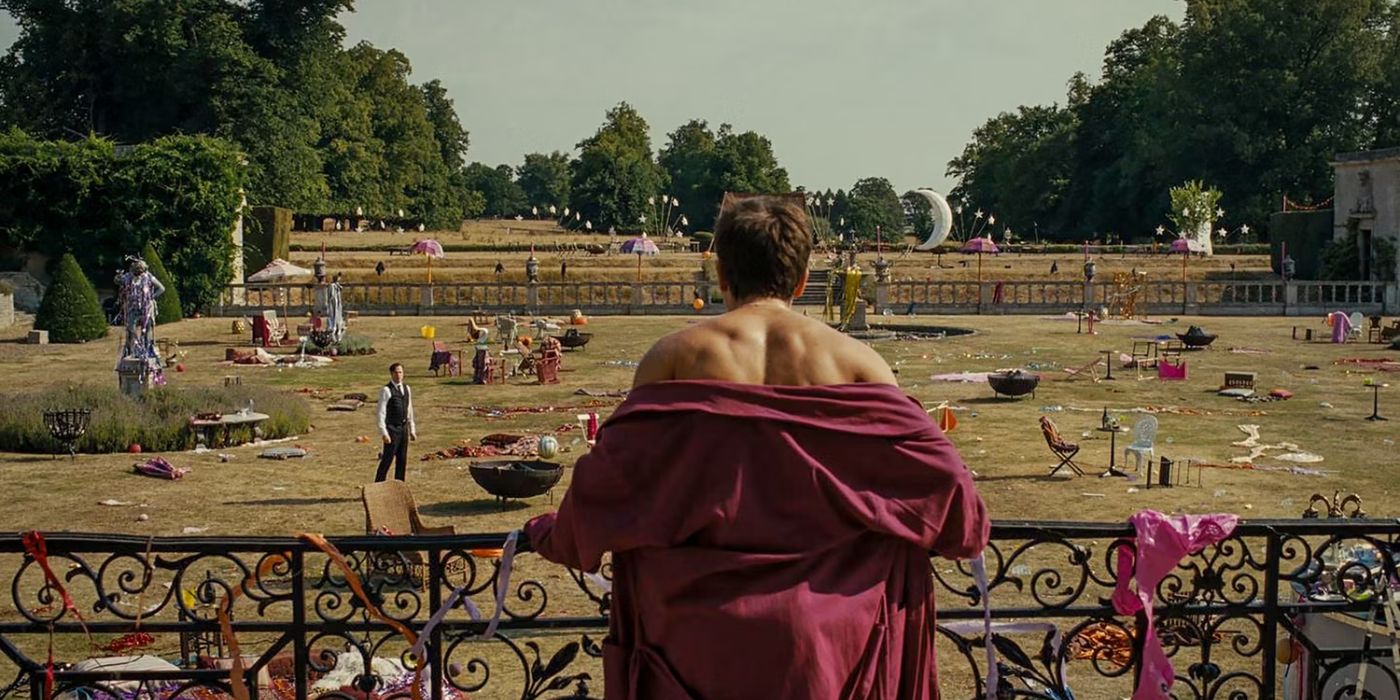 Saltburn has secured the prestigious opening slot of the BFI London Film Festival, where it had its premiere on October 4, 2023. The film will be distributed in the United States by MGM. It will have a limited release on November 17, followed by a wide release on November 22, just in time for Thanksgiving Day. The movie was originally set to have its limited release on November 24 but has since been moved up to the present date. The change now means that the film will have to go up against the likes of Hunger Games: The Ballad of Songbirds and Snakes and Ridley Scott's Napoleon at the box office, with the former coming out on November 17 and the latter on November 22.
Buy Tickets
Will 'Saltburn' Be Released in Theaters?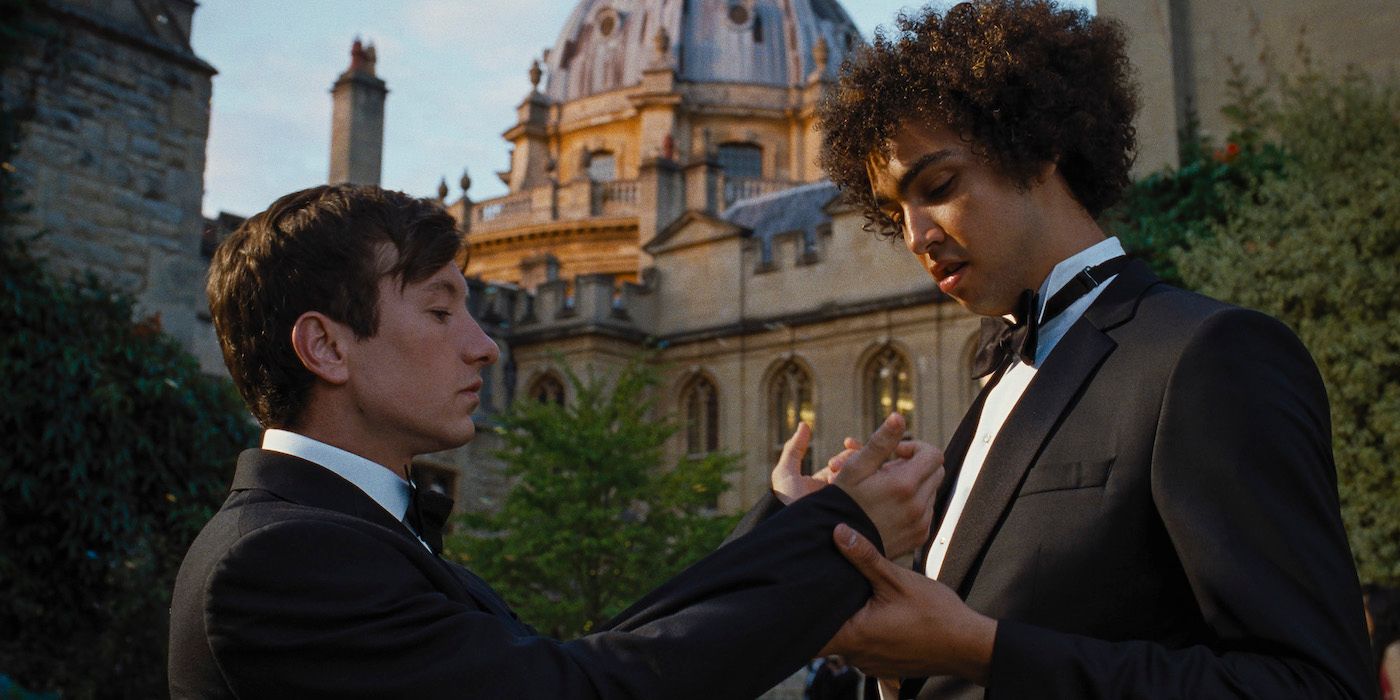 Saltburn is expected to have a theatrical run well into the holiday season right up to Christmas, as Fennell's Promising Young Woman played for an extended period over the same window and was one of the few movies during the 2021 pandemic to have something close to a successful theatrical run. But after that, since MGM [owned by Amazon Studios] is distributing the movie, we can expect the film to be available on Prime Video in time for the Academy Awards.
Is There a Trailer for 'Saltburn'?
MGM released a teaser trailer for Saltburn on August 30 and the makers have also released a couple of first-look images of the film that give us a glimpse into the ostentatious and seductive world of excess of the characters in the movie inhabit. The trailer, which you can see above, teases the dark and visually rich story of the film, marking Saltburn out as a must-watch for fans of psychological dramas.
This was followed by another teaser on October 10, showing Keoghan's Oliver exploring the Saltburn estate. Watch it above.
The official trailer, which runs two-and-a-half minutes long was released by Amazon MGM Studios on October 19, 2023, giving us our best look yet at the psychological drama.
What Is 'Saltburn' About?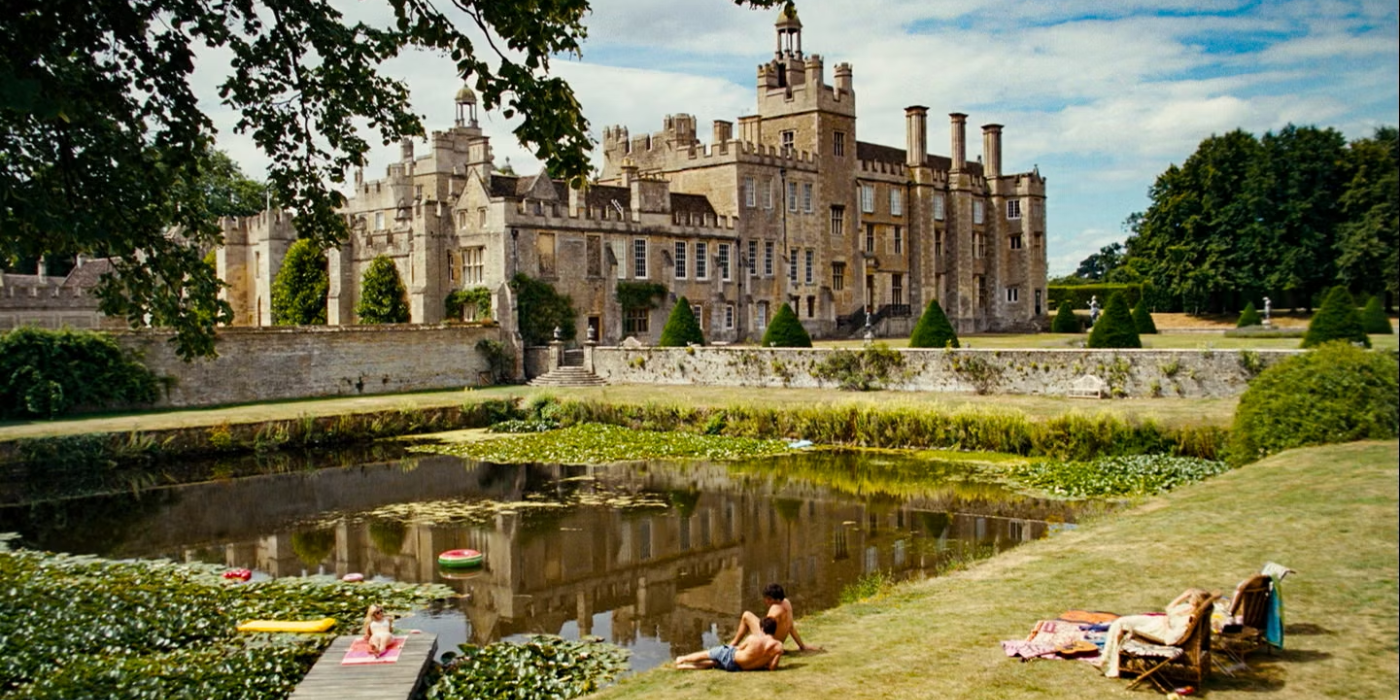 Set in the mid-2000s, Saltburn has been described as a wicked tale of privilege and desire that explores the aristocratic high society of England in a dark and gripping story of obsession with "a soundtrack of early 21st-century pop bangers." Specific plot details have been kept under the wraps as the film is being called a mystery where we discover things with the character, so it's best to not delve too deep into the plot. But we know Barry Keoghan plays an Oxford student, Oliver Quick, who unable to find a clique of his own, gets infatuated with an upper-class man, Felix Catton, played by Jacod Elordi. Felix invites Oliver to his elite family estate, Saltburn, for an unforgettable summer with his eccentric family.
Fennell is perfectly suited to tell a story like this as she is likely drawing from personal experiences for the film. Fennell's father, the British jeweler Theo Fennell is an affluent presence in the British high society and she herself attended the most expensive private school in the UK, and even famously played Queen consort Camila Shand in the third season of Netflix's The Crown. The official logline of the film released by Amazon reads:
Struggling to find his place at Oxford University, student Oliver Quick finds himself drawn into the world of the charming and aristocratic Felix Catton, who invites him to Saltburn, his eccentric family's sprawling estate, for a summer never to be forgotten.
Collider's Emma Kiely was able to see the film at the London Film Festival and gave the film a B, saying her review:
Saltburn may not add anything new to the wealth conversation, but it does paint a different picture of lords and ladies than we are used to. Fennell's direction outdoes her writing here, and the cinematography from Linus Sandgren is exquisite (no surprise). Saltburn is more something to behold than to be understood, swapping out biting commentary for some glorious images featuring actors who rarely miss a beat.
Who's In the Cast of 'Saltburn'?
Saltburn has a pretty impressive ensemble cast lead by Barry Keoghan and Jacob Elordi. Keoghan is coming right off his first Oscar nomination for playing the lovable local dimwit Dominic in The Banshees of Inisherin, and Irish actor known for his appearances in popular films like Eternals and The Batman will look to earn his second nod from the Academy. Elordi also has an exciting year ahead oh him as the Euphoria star also plays Elvis Presley in Sofia Coppola's hotly anticipated biopic, Priscilla.
Rosamund Pike was the first announced cast member to sign on to Saltburn, in her first film role since 2020's I Care A Lot, but the role of the actress known for her iconic portrayal of the character Amy Dunne in Gone Girl has been kept mysterious. The film also stars Richard E. Grant, Archie Madekwe, Alison Oliver, Paul Rhys, and also Promising Young Woman star Carey Mulligan in an undisclosed role.
Who Is Making 'Saltburn'?
Saltburn is the brainchild of writer-director Emerald Fennell, who performs both duties on the film and also serves as a producer on it, just how the actor-turned-director did in Promising Young Woman. Margot Robbie produces the film through her production company LuckyChap Entertainment, along with producers Tom Ackerley, Josey McNamara, and line-producer Tim Wellspring. Principal Photography on Saltburn commenced on July 16, 2022, with Academy Award-winning cinematographer Linus Sandgren, known for his work on films like La La Land and No Time To Die, and filming took place in multiple locations over the UK, including the Drayton House in Northamptonshire.
What Is 'Saltburn' Rated?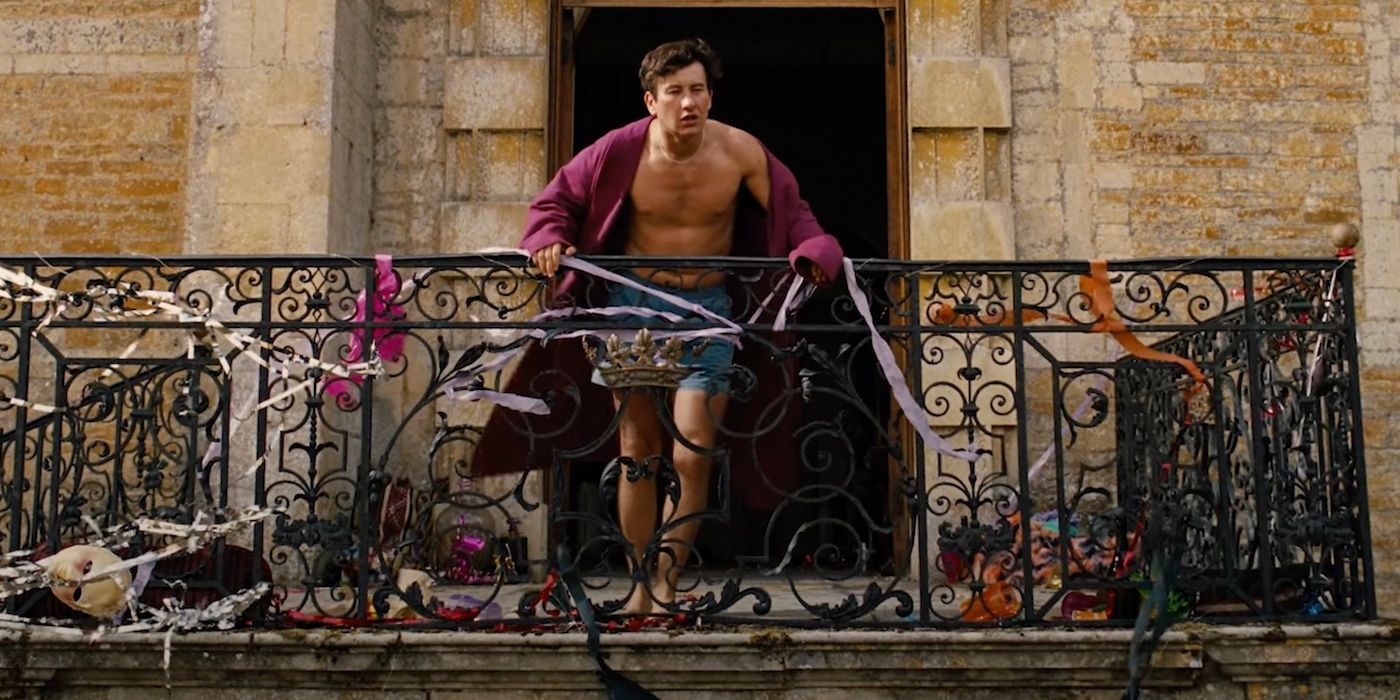 The film has been rated R for strong sexual content, graphic nudity, violent content, strong language, and drug use, so you'll have to leave the kids at home for this one.