All Rise went there. They covered the most controversial topic — women's rights about abortion.

While parts of "I Will Not Go Quietly" seemed political, other parts touched my heart.

It was challenging to watch Mia's choices be prosecuted on All Rise Season 3 Episode 17 just because she made the right choice, and Amy and Ness were ideal attorneys for her.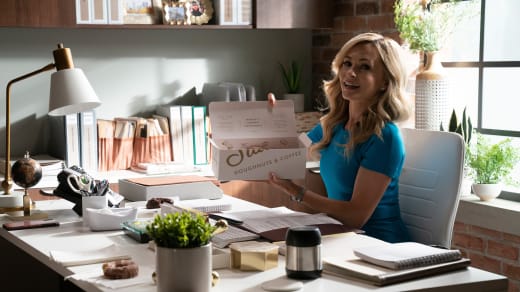 I want to think that the United States has evolved by the 21st century, so we're not chasing young women out of clinics for getting an abortion.
Aiding and abetting. Abortion is a felony. What a world in the 21st century.

Ness

I'm still unsure why Mia was being held in a California jail since the abortion occurred in Texas, but luck may have been on her side when she met Amy, Ness, and Lola.

Mia shouldn't have used a fake ID, but she was terrified. She was just getting started in her life, and it was the only way to obtain an abortion.

It's difficult not to feel some empathy for her since she felt like her fundamental rights and her voice were taken away.
We get it. Losing these basic rights is destroying women all over our country.

Amy

It would have been too easy for DA Bravo's new policy to allow Lola to let Mia go and squash the warrant. While I wanted that to happen, I expected a Texas DA to show up.

I didn't expect her to throw the book at Mia or throw insults at Lola, Ness, and Amy. DA Karen Conway Ketchum was so sure of herself that it hurt her case.

The more DA Ketchum insulted Lola's authority, the more inclined Lola seemed to want to help Amy and Ness delay this case and keep Mia in California.

I've never seen Lola show overt favoritism before, but it bothered her that someday her daughter could be in that predicament, and she wanted to prevent that.

It didn't seem fair that Mia be punished for going to a licensed doctor for abortion versus the women who cross the border to find abortion drugs. But that didn't phase DA Ketchum.

Ness and Amy could only delay things by asking for a 12-75 and asking that Texas provide Mia's authentic birth certificate to prove her citizenship.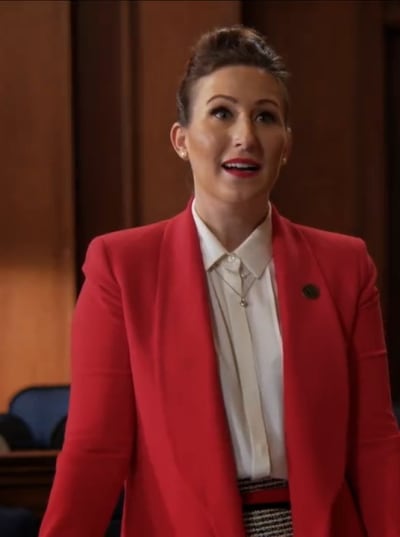 Abortion is such a tricky topic to discuss. I've leaned more pro-life because my birth mother chose to give me up for adoption versus abort me,

However, I have empathy for women who get pregnant unexpectedly, especially if they were victims of rape, and I think they should be given a choice.

That's what Mia's case was about allowing her that freedom of choice.

Amy and Ness had hoped to reach DA Ketchum that way when she confided she had been pregnant as a teen, but she refused to back down since her son was her pride and joy.
Amy: You must be so proud, and you're obviously a strong woman. But you had a choice under your law. Mia doesn't.
Ness: And you weren't facing prison for your choice.

DA Ketchum was so sure in her beliefs that she never took the time to research the California laws or DA Bravo's new policies on bail.

In her eyes, letting Mia free was a crime, not a victory.

It was an empty victory for Mia, too, since she still couldn't return home to Texas with an outstanding warrant and their abortion laws there.

Things are bound to get worse before they get better now that DA Ketchum announced her candidacy for Congress.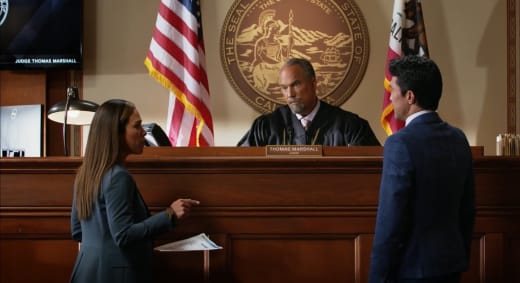 While DA Bravo's new policies helped Mia, they destroyed his career because a robber got back out on the streets and murdered a  philanthropist. To review his new policies, watch All Rise online.

With his back against the wall, he decided to try the case himself, upsetting everyone involved.
Emily: Your Honor, given that district attorney Bravo is a well-known public figure, the defense objects to his presence in court as it may greatly influence the jury.
Mark: Sir, I've got this.
Judge Marshall: Mr. Bravo, while I'm deciding whether to kick you out of my courtroom, what do we owe the pleasure?
DA Bravo: Your Honor, I'm here to try this defendant for the murder of Reba McCallister.
Judge Marshall: Who says Mondays are boring? Let's bring in the jury.

DA Bravo may have overreached by combining a burglary and a murder charge.

He was so convinced that he could prove that Dante planned to commit robbery and shot Reba McCallister in the chest when she surprised him that DA overlooked vital evidence.
DA Bravo: Boy, did it feel good to be back in the courtroom. I think I have that jury, Callan.
Mark: I'm sure glad you're enjoying my job, Sir. But if you made me Head Deputy DA so you can pull me out of a courtroom and put me behind a desk, I will resign right now.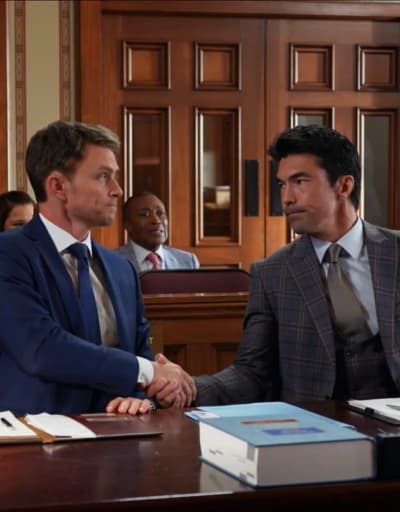 Emily found a technicality since there were no permits to convert the garage into a guest house, and no one lived there; it wasn't a residential burglary.
What is ridiculous is could have only tried my client with felony murder, but you didn't. You wanted to put him away for life to save your job, so you went for a special circumstance only you screwed up, only you screwed up with the underlying felony.

Emily

DA Bravo learned some important lessons during this trial, like he had to depend on his prosecutors and appreciate them. While Mark was being pushed aside, he came through with the evidence they needed to win the case.

While this was a serious murder case, it was apparent that Ian Anthony Dale and Wilson Bethel had so much fun with the scenes of their characters opening up about their lives.

It was inspiring to learn why DA Bravo became a prosecutor, and it was amusing seeing what Mark went through now that Amy wants to start a family. It cemented an even stronger friendship.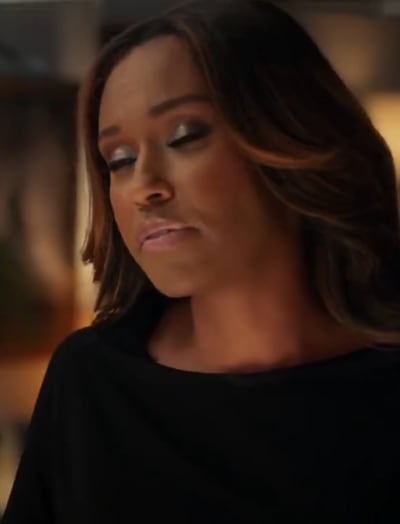 Speaking of friendship, Rachel returned and was hurt when she learned that Lola and Andre had kissed.

I can't believe I'm saying this, but I was impressed by how mature she handled the news. Usually, Rachel and Lola's friendship grates on my nerves since they seem so juvenile, competing over a man. It reminded me of high school.

But Rachel had chosen not to see Andre because she valued Lola's friendship more. No wonder she felt betrayed.
Rachel: I was developing feelings for Dre.
Lola: I know.
Rachel: It's why I was distant on your birthday. It's why I stayed away after you asked me to step back because I'm loyal to you and not some man.

The girl code was so messy here. Initially, part of me thought Rachel should have left Andre alone, but he was a college boyfriend, and Lola should have been over him.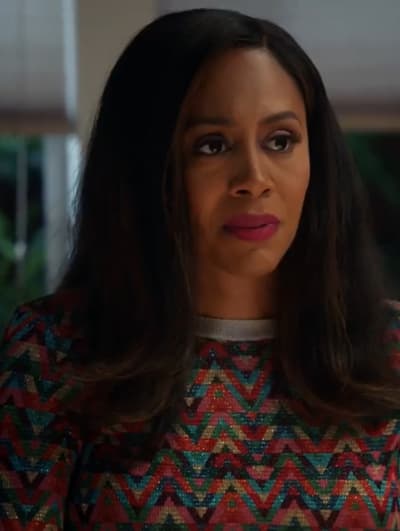 Simone Missick has killed these emotional scenes dealing with the fallout of her kiss with Andre, but I hope we're done with it. She's taken responsibility for it.
Rachel: Dre doesn't owe me anything, but you are my best friend. We're family. Next time, Lo, call me first.
Lola: Girl, there is not going to be a next time.

I'm also relieved that Rachel decided not to merge Audubon, Quinn, and Associates with Andre's firm.

I prefer their smaller firm, and maybe we can eliminate him.

Girl power rocks, and how much fun was it seeing them ending the day just celebrating life?

That cliffhanger was surprising. With DA Ketchum running for Congress, does that mean we haven't heard the last of her and her pro-life stance?

Abortion is probably the most controversial platform to run on. I'm unsure if All Rise needed another political storyline in its final episodes.

Over to you, All Risers. What was your take on this episode?

Are you enjoying that the series has covered so many topical issues, or has it been too much?

Did you enjoy seeing DA Bravo and Mark in action together? Were you happy to see Rachel again?

We love to hear feedback, so let us know in the comments below.
Laura Nowak is a staff writer for TV Fanatic. Follow her on X.