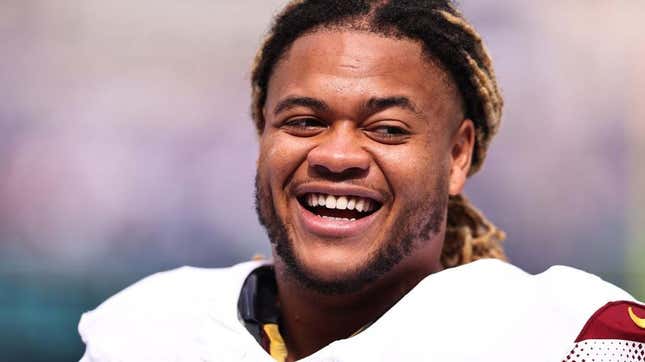 The San Francisco 49ers made another bold move and took advantage of the fire sale going on in Washington as they've acquired former No. 2 overall pick Chase Young. San Francisco traded for former Broncos and Cowboys defensive end Randy Gregory earlier this month and continues to add pass rushers to the roster.
Did the Raiders make the best NFL trade deadline move?
After a dominating rookie campaign in 2020, where Young recorded 7.5 sacks, won Defensive Rookie of the Year honors, and was a Pro Bowl selection, the next two years were plagued by injury. Chase played in just 12 games during the '21 & 22 seasons combined.
So far this year, Young looks back on track, playing in seven games for Washington with five sacks. Going to the 49ers should present even more opportunities for Young to show what he can do on that San Francisco defensive line. It also makes sense for the Niners, who have struggled in October, dropping three in a row, including a bad 31-17 loss to Cincinnati on Sunday.
They've looked like a different team in the past few weeks. It's like they've forgotten how to play Niner football. The offense hasn't played their best, but the defense, which is usually this team's saving grace, has been out of sync. Secondary issues on the back end and not getting home as much up front, among other things, have hampered SF recently. Adding Young to an already top-notch D-line should help get them going in the right direction.
In a matter of a couple of weeks, the 49ers have gone from battling for the No. 1 spot in the N.F.C. to second place in their division and fifth in the conference. While they still feel like the better team than Seattle and Dallas (both are ahead of SF currently), their record and current product on the field say otherwise. And we know what the great Bill Parcells famously said. "You are what your record says you are." According to the last three weeks, San Francisco's record says they've gone M.I.A.